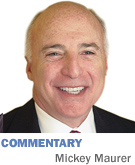 Note from Mickey: I am taking a hiatus from this column until sometime next year in order to complete a book. Our editors will publish a favorite column once a month. This one is from 2003.
For years my wife, Janie, has been winning ribbons in the baking competition at the Indiana State Fair. This lady is from New York City. Before she moved to Indiana, she had never even seen a blade of grass. Now she loves to take in all the sights, sounds and smells of a world she missed as a child—including the fair's culinary competition—and can she bake.
But what is so difficult about baking? It's Chemistry 101. I decided to enter the fair in the banana bread competition.
The recipe provided by friend Patrice Nonte seemed fairly simple—mainly bananas, butter, sugar and eggs. (If I had known what was in this stuff, I probably would never have eaten it.) I assembled all the ingredients on the kitchen counter with a bunch of cups and bowls and set to work.
The first instruction was, "Beat together butter and sugar." With what? A stick? I flailed furiously at the butter and sugar with a spoon, but nothing was blending. It was suggested that there is a machine for this purpose called an electric mixer. I then discovered that the mixer has more than one speed and that, at the highest speed, it does not mix. It flings. As a result, much of the batter did not make it to the baking pan.
While the mixer was gently blending what remained of the ingredients, I cleaned the goo off my face and the kitchen light fixture. After placing the banana bread in the oven, I turned my attention to another category I entered: "Do your own thing bread." This was more appropriate for my personality and skill level.
From the garden, I harvested a cup of almost-ripe blackberries and canvassed the kitchen for additional secret ingredients. I was having good luck with bananas, so I threw in some I found in the freezer. The mixer made cranking noises.
You would think everything that comes in a yellow stick would be either butter or margarine. To the contrary, the makers of Crisco sometimes disguise their shortening as a stick of butter. I learned this important fact after a full cup of Crisco had been neatly blended into my secret ingredient mix. Hey, if it looks like butter, perhaps it will do the same job.
I was so pleased with my purple concoction that I dubbed it "Baneberry bread," and made a little extra. It smelled great as I removed it from the oven. I couldn't wait to taste it. I took one bite and dropped to my knees. Janie suggested that not only would I fail to receive a ribbon for my secret formula, but the judges would likely prosecute. Putting aside visions of a judge carried out on a stretcher with a mouthful of purple foam, I entered the Baneberry bread.
After my baking ordeal was over, I thoroughly cleaned the kitchen. Wasn't I surprised when Janie walked in and complained about the mess? My baking days are over. I have been banished from her kitchen forever.
If you're not a farmer or a master baker, there are still many ways to compete at the fair. You may enter the amateur wine competition or submit your best photo effort. Other categories include needlework, basketry and antiques. There is even a category for painted mailboxes.
If you haven't entered any of the competitions, attend our State Fair anyway. There's more to do there than eat an elephant ear while gawking at the world's largest pig. Enjoy harness racing, gospel music, Band Day, Clown Day and cheerleading contests. Watch the start of the Hot Air Balloon Race and scarf down an old-fashioned pancake breakfast. Wash that down with a milkshake and a deep-fried Snickers. (Over 10,000 of these artery cloggers were sold last year.) Check out my banana bread.
2016 update: The "Baneberry bread episode" ended my baking career, but if you want to earn a blue ribbon at the State Fair, I recommend you take pie making from Lisa Sparks at Mickey's Camp this summer. Lisa's Pies have won hundreds of blue ribbons all over the country. Email me if you have an interest. Attend the fair this year. Opening day is Aug. 5.•
__________
Mickey Maurer is a shareholder in IBJ Corp., which owns Indianapolis Business Journal. He can be reached at mmaurer@ibj.com.
Please enable JavaScript to view this content.