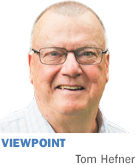 Earlier this summer, Indianapolis was notified by the U.S. Department of Housing and Urban Development that funding to support housing programs for people who are homeless would be cut. This $687,540 cut was significant and primarily affects transitional housing for victims of domestic violence, veterans and homeless people struggling to overcome addictions and manage mental illness.

I expected some public outcry, some public response to HUD, some pushback from our city officials or the local homeless advocacy group—something. All I saw was finger-pointing to establish blame. It is simple. It is HUD's fault. And someone needs to call the agency out on that.

HUD's definition of transitional housing is "a project that is designed to provide housing and appropriate supportive services to homeless persons to facilitate movement to independent living within 24 months." In its policy statements, HUD states that transitional housing is an effective strategy for victims of domestic violence, people with addictions and youth. Yet it is the programs that serve these populations that lost their funding.

What is HUD's primary interest in terms of homelessness? It wants to decrease the number of days people are homeless. What does it count as "homeless days"? Days spent on the street (or other place not meant for human habitation), days in emergency shelter, and days in transitional housing. So by taking away the option of transitional housing and pushing people into permanent housing before they might be ready, HUD is going to see a reduction in the number of days people qualify as homeless.

If a person goes into permanent supportive housing, he or she is no longer homeless, so the data looks good. Transitional housing counts as "homeless days," so the data looks bad. It is as simple as that.

Is that really success? Is the person better off? Do we have data that tells us how people with addictions and mental illness do in transitional housing with on-site supportive services as compared to when they go straight to permanent housing? No. So what do we know?

• We know a high percentage of homeless people have an addiction. According to the National Coalition for the Homeless, 38 percent struggle with alcohol addiction and 26 percent have substance-abuse problems. This is more than four times the rate in people who are not homeless.

• We know, according to the Substance Abuse and Mental Health Services Administration, 20-25 percent of the homeless population suffers from some form of severe mental illness, compared with only 6 percent of Americans overall.

• We know that more than 75 percent of homeless people who have a mental illness also have a substance-abuse problem.

• We know that these folks are not ready to live independently.

• We know there are transitional housing programs to serve people with addictions and mental illness and they have had significant success helping people become healthy, sober, productive citizens.

• We know many of these people would be cycling through our criminal justice system if they could not find transitional housing that provides structured programming.

• We know that HUD's priority—reducing the number of days someone is homeless—does not align with the length of time it takes a homeless person to address his or her addiction/mental illness and be ready to maintain permanent housing.

I would think the goal is to support people so they can become clean and sober and manage their mental illness. Once this is done, they have a chance to become employed and stay out of homelessness. Transitional housing is a proven effective strategy for that. We have these effective programs right here in our city. We should be expanding those, not getting rid of them. Why are we letting HUD tell us differently?•

__________

Tom Hefner is owner of Hefner Investments and a former CEO of Duke Realty Corp.