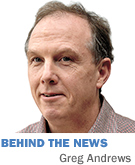 New development of shopping centers in the United States has been in a deep freeze since the Great Recession—which is one reason Indianapolis-based Kite Realty Group Trust and other publicly traded developers are on the prowl for opportunities to grow through acquisition.
In the second quarter, in fact, Kite almost pulled the trigger on a doozy—as evidenced by the $2.8 million the company spent on a potential purchase it ultimately decided not to pursue. The expense was listed in second-quarter financials the company released July 29.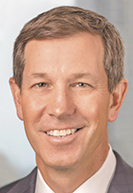 Kite
Don't expect CEO John Kite to share details. On a conference call with analysts, he was asked every which way about the deal—but offered up little beyond reiterating that the company is only interested in deals that enhance its property portfolio, improve its balance sheet and bolster free cash flow per share.
"I have been asked if our team is interested in growing for the sake of growing," John Kite said on the call. "I can't think of a more tangible example to refute this concern than what has happened in the second quarter."
Analysts surmise that the target was all or part of Columbus, Ohio-based retail developer WP Glimcher Inc. That would make sense in light of a report by Reuters in early June that Glimcher and Kite were in merger talks. Kite has a stock market value of $2.4 billion, compared with Glimcher's $2.2 billion.
The Reuters report perplexed analysts given Kite's focus on high-quality, open-air shopping centers and WP Glimcher's concentration of second-tier malls (though Glimcher does also own open-air centers such as Clay Terrace in Carmel and Keystone Shoppes on East 86th Street).
Kite shares swooned on the report. Citigroup's Michael Bilerman was among a chorus of analysts who didn't think the deal made sense for Kite, unless Glimcher was willing to carve out its strip centers and sell only those.
Indeed, so-called Class B malls are something of a pariah these days. Many are seeing flagging demand for space as retailers shift more sales online and narrow their rosters of stores to only the strongest locations.
Given those dynamics, analysts say part of the Glimcher strategy is to reduce debt by giving back to lenders the keys to malls that have more debt than they're worth. That's not exactly a confidence-building business model.
What happened between Kite and Glimcher—assuming anything did—would make quite a story if anyone ever talks.
A few days after the Reuters report, Glimcher announced it was "not currently engaged" in merger discussions with "any third party."
Apparently, the operative word was "currently." Eight days after that announcement, Glimcher's CEO, Michael Glimcher, resigned without explanation, and the company said it would be taking a special charge stemming from its "investigation of strategic alternatives"—Wall Street talk for merger discussions.
In a further repudiation of Glimcher, the company said it planned to change its name to Washington Prime Group, as the company was known before it merged with Glimcher Realty Trust in 2014.
In an interview with IBJ, John Kite described the company's merger discussions as business as usual. He wouldn't confirm Glimcher had been a target.
"We are always looking at opportunities," he said. "And in that particular case … we looked at an opportunity, and we thought it had a lot of merit. In the end, we couldn't get all the things we needed to get in order to decide to go forward.
"That is just part of our business; it is no different than anything else. It is like R&D over there at Lilly. We always have to be looking for opportunities to try to add value to our shareholders."
Kite has grown through acquisition with aplomb in recent years. In 2013, it scooped up nine shopping centers with 2 million square feet of space for $307 million, and a year later it bought Illinois-based Inland Diversified Real Estate Trust for $1.2 billion in stock—a deal that nearly doubled Kite's property count.
Analysts say the good news for Kite is that, thanks to an ambitious program to boost the profitability of existing properties through reinvestment, the company does not need to do a deal to eke out growth. Kite has eight redevelopment projects under construction and another 15 identified. The projects are expected to cost more than $130 million and yield returns of 9 percent to 11 percent.
"If you look at it from a macro perspective, there is extremely low supply of high-quality retail real estate," John Kite told IBJ. "So for people like ourselves who own a fair amount of that, our focus is on continuing to improve the real estate to remain relevant to the retailers and to create new opportunities" to expand shopping centers and enhance the tenant mix.•
Please enable JavaScript to view this content.