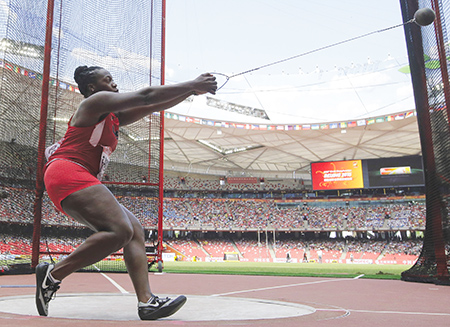 WTHR-TV Channel 13 General Manager Larry Delia has no hesitation about spending $1 million to cover this month's Summer Olympics.
The station is set to send six staffers to Rio for 3-1/2 weeks to cover more than a dozen Olympians with Indiana ties and chase national stories alongside some of the biggest news-gathering organizations in the world.
Already, the station has sold 95 percent of its available ad space on Olympics programing (5 percent is held out for last-minute advertisers willing to pay higher prices). And with big-name sponsors including Indiana University Health, Community Health and Comcast already signed on, a solid return on the station's investment looks likely.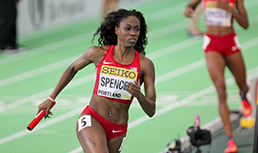 Lawrence North High School graduate Ashley Spencer will compete in the 400-meter hurdles at the Olympic Games. (AP photo)
But in 1996—the first year the station sent staffers to cover the Olympics live—the decision was anything but a slam dunk.
Running near last in local TV news ratings war, then-WTHR General Manager Rich Pegram decided to go big and send 17 people to Atlanta for 17 days.
"It was a big risk," said Kevin Finch, who worked for WTHR nearly 14 years and was executive producer of special projects from 1994 to 2003. "But it paid off. It was one of the things that started WTHR's ascendancy."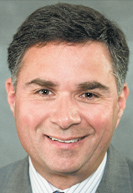 Delia
Most Indianapolis stations at that time weren't—and still aren't—sending anyone to the Olympics, and stations across the country that were doing so generally sent one or two people. Maybe three.
Often, station clusters send a handful of people to cover the Olympics for a half dozen or more stations.
One reason WTHR is so vested in the Olympics is that the popular event airs on NBC—the station's network affiliate. But there's no NBC mandate to cover the games and many affiliates send a much smaller contingent or none at all.
"Cost is always a big factor in these decisions," Delia said. "But we think it's paid off for us on a number of fronts."
Rising to the top
The commitment has made WTHR an Olympic stalwart locally and nationally.
During the last two Olympics, WTHR has rated No. 7 of stations in 56 markets carrying the multi-day event. During the 2014 Winter Olympics, an average of more than 172,000 households tuned into the Winter Olympics on WTHR. The Summer Games in 2012 were even stronger, with 220,000 households tuning in, according to Nielsen Media Research.
Those numbers are slightly lower than for an Indianapolis Colts game. But for an event spanning nearly a month, that kind of viewership is almost unheard of in today's fractured television market.
In 2014, WTHR's Olympics ratings outpaced other programming in the market by far—in many cases, doubling or tripling the audience, according to Nielsen. Anywhere from one-fourth to one-third of all TV households in the market tuned into the last two Olympics on WTHR, the ratings firm says.
Delia said WTHR's dedicated local coverage has ratcheted up those numbers.
The station's locally produced "Olympic Zone"—a show all NBC affiliates produce—was watched in 2014 by an average of more than 106,000 households. That gave it a 9.9 rating, the highest among affiliates and 22 percent higher than the next-highest (St. Louis), according to Nielsen.
The show, which aired weekdays at 7:30 p.m., drew more than double the viewers of other programs airing at the same time in this market.
This time around, in addition to "Olympic Zone," WTHR will run the locally produced "Eyewitness to the Olympics" at 7 p.m. on weekdays and at other times on the weekends. The station also will air stories from Rio during all newscasts, Delia said.
WTHR hopes to bolster ratings by rolling out robotic-camera technology and athree-dimensional virtual-reality packagethat will allow on-air personalities to interact with graphics that viewers will see on screen in a whole new way. Delia said that investment cost nearly $1 million—on top of the cost of sending the team to Rio.
"We've spent many months getting this ready and we wanted to debut it during the Olympics and election because we knew our audience would be big," he said.
Delia declined to say just how much WTHR will generate in ad revenue during the Olympics or whether the station will earn enough to cover its considerable investment. But media buyers said the station will be able to charge at least as much for its local Olympics programming as it does during its local news—$800 to $1,200 for a 30-second spot. And it could command $5,000 to $6,000 for a spot during NBC prime time or its own coverage of big Olympic events.
Affiliates like WTHR control about 20 percent of the ad slots during NBC's coverage and control all the spots during local coverage.
Hard times, big risk
Despite the gold-medal-like payday, the decision wasn't first and foremost about making quick cash. It was part of a strategy that's more like a marathon than a 100-meter dash.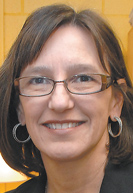 Melangton
Finch, along with WTHR Sports Director Dave Calabro, were two of the people on that 1996 Olympics trip.
"That first year, the ratings just took off," Calabro recalled. "The response from viewers was phenomenal."
Finch said it was just what he, Pegram, then-program director Rod Porter, news director John Butte and promotions chief Jeff Dutton were counting on.
Finch, who had a long career in TV news and is now a journalism professor at Washington and Lee University in Virginia, readily admits that first trip had as much to do with brand-building and promotion as journalism.
"The Olympics were in the U.S. for the first time in a number of years and there were a whole lot of Indiana ties," he said. "There were solid journalism reasons and promotional reasons to go."
WTHR research indicated that Hoosiers were far more patriotic andsports-loving than the average American. And there were natural tie-ins, withIndianapolis home to a growing number of national sports-governing bodies and the 1987 Pan American Games still fresh in many Hoosiers' minds.

Pegram and his lieutenants—looking for a way to differentiate WTHR from the stations that had been pummeling it in local news ratings—decided to make big events, and sports in particular, a key part of the station's brand identity.
"The city had made a big push to become the amateur sports capital of the world," Finch said. "We felt people here really identified with the Olympics. So covering the event fit perfectly into our growth strategy. What better way to get people to take notice of the station and what it was doing?"
And while the first splash was a big one, the overall impact on ratings wasn't immediate.
"People now think of WTHR as this legacy station that has always led in the ratings," Finch said. "That's not true. WRTV was the longtime leader and then by the mid-'90s, it was WISH."
With the Olympics as a peg, WTHR started to claw its way to the top. It wasn't until the early 2000s that WTHR summited the TV news ratings heap. By that time, WTHR had already covered the 2002 Winter Olympics in Salt Lake City and the Summer Olympics in Atlanta in 1996 and Sydney in 2000.
"I think our Olympic coverage was the pillar and foundation for what this station has become," Calabro said. 
Along the way, he said, the coverage became about more than sports. There was a story about stray dogs in Sochi, Russia, and Calabro's chance encounter with Vladimir Putin, which led to a locally generated story.
NBC leans on WTHR
Over the years, the WTHR contingent has shrunk. Delia said that's primarily due to technological advances and efficiencies learned through experience that allow the station to now do more with less. But he said its financial commitment remains "significant."
"We're still one of the very few, if not only, independent station covering multiple events with multiple people," said Delia, a 32-year industry veteran who joined WTHR from WXIN-TV Channel 59 in 2013.
This year, the station is sending news anchor Anne Marie Tiernon, who, along with Calabro, will cover Indiana-affiliated athletes competing in Rio.
Columnist Bob Kravitz also will be in Rio writing stories for the station's website and doing on-air pieces with a focus on big national stories, such as the performances of American swimmer Michael Phelps and Jamaican sprinter Usain Bolt.
Veteran videographers Ryan Thedwall and John Whalen and Executive Producer Cyndee Herbert will complete the station's on-site staff.
Scott Swann was sent to Rio for several days last year to gather stories about the city's culture, people, landscape and attractions and its preparations for the Olympics.
And three months ago, WTHR sent six huge shipping crates to Rio packed with eight cameras, bug spray, antibacterialwipes and interview schedules. It takes that long to get goods and equipment through customs and to the Olympic sites, Delia said.
NBC officials told IBJ that WTHR's coverage is so thorough, the Indianapolis station often supplies footage and stories for other affiliates and the network itself.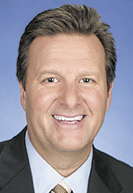 Calabro
John Miller, NBC Olympics chief marketing officer, said WTHR will "represent an integral part" of the network's overall efforts to cover and market this year's Olympics.
The key to WTHR's success—even among other NBC affiliates—is the station's commitment to cover Olympicathletes at events outside the games, said Allison Melangton, an events executive for the Indianapolis Motor Speedway who has served as an associate producer for NBC's gymnastics coverage for nine Olympics. For example, Tiernon has covered a number of non-Olympic gymnastics meets and interviewed athletes away from competition, and Calabro followed Indiana's swimming contingent long before the Rio team was decided.
"It's common knowledge among NBC people that WTHR is one of the very few stations with a heavy presence that covers the Olympics the way they do," Melangton said. "Not only that, the athletes know [WTHR reporters] because they follow many of those sportsyear-round. The gymnasts certainly know Anne Marie and, among all the other media there, they will look for her and give her exclusive access."
WTHR will keenly follow the highest-profile athletes including Indiana Pacers star Paul George and Indiana Fever star Tamika Catchings, but also shine light on lesser-known athletes with Hoosier ties.
"The local athletes have large followings here—family and friends—that for logistical and financial reasons simply can't make the trip to the Olympics," Tiernon said. "The athletes really count on us to get word back to their people at home. So we end up getting really good access to the athletes."•
Please enable JavaScript to view this content.