Tens of thousands of tabletop game enthusiasts will descend on the Indiana Convention Center starting Aug. 4 for Gen Con. But what happens when Gen Con closes shop?

That's where retired Navy SEAL Shane Priddy and his new store, Family Time Games, come in. The store is part of an expanding universe of specialty retailers in central Indiana and across the country that are satiating an appetite for old-fashioned—and new-fashioned—board games.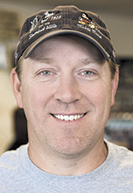 Priddy
Opened last November, Priddy's 7,600-square-foot North Michigan Road store and rec room not only offers one of the area's most extensive collection of tabletop games this side of the Gen Con dealer room, but it's equally populated with a furniture showroom's worth of tables to play them on.

In the growing business of hobby game retailing, such sampling space is a key to success. Creating a player-friendly, welcoming atmosphere is an important strategic move to counter online retailers and their discounts. You might be able to get a copy of Blood Rage from Amazon.com for 20 percent off the suggested retail price. But is Amazon going to let you try it out first on its handcrafted tables?

"A lot of game stores are run as a hobby," Priddy said. "That's awesome. But I don't want to do that. I want to grow a community. If you want to play a four-player game and there's only two of you, it's not very fun. I wanted to build a community around those two people being able to come and find the two other players."

And he's happy to teach the game. "If you decide to purchase it, I hope you'll purchase it from me. But it's not mandatory." He even lets patrons bring outside food and drink to the store (while acknowledging that hardcore gamers aren't always great about cleaning up after themselves).



That community-building philosophy might sound philanthropic. But it could be a key to success in a billion-dollar industry.

The hobby game market has experienced seven consecutive years of growth, with a 20 percent boost in 2015. That includes sales from big-box retailers that continue to sell the staples, including Monopoly, Scrabble, and licensed movie and TV tie-in games. Meanwhile, specialty games from smaller companies sell to enthusiasts and newcomers willing to try something new. Barnes & Noble has grown its stores' game departments, and hobby games have found their way into Target and other big-boxers. And an Australian retail chain, Good Games, has even set its sights on downtown Indianapolis for its first U.S. store.

The newcomers join existing game retailers including The Game Preserve—a staple since 1980 with locations in Greenwood and Fashion Mall Commons—Saltire Games on Pendleton Pike, and a handful of others.

All told, retail sales nationwide adds up to an excess of $1 billion, according to Milton Griepp, president of industry analyst ICv2, which is preparing to announce its latest sales findings before Gen Con.

Griepp noted increases across all sales categories, including collectable games, miniature games, board games, card and dice games, and role-playing games. That's unique, he told IBJ, for an industry where growth in one segment typically drives overall industry increases.

Board games, he said, continue to rise, with older games such as Ticket to Ride and Catan continuing to grow even as newer titles such as Pandemic Legacy and Dead of Winter find enthusiastic audiences beyond the core gaming market. "Lighter" games—ones that are easier to play right out of the box—have also played a big part in growth.

"The hobby game category historically has had this image of being harder to learn and harder to play," Griepp said. "But there's such breadth now with games that can be played and enjoyed by a very broad range of types of players."

How important are independent retailers such as Family Time Games? "They are everything," Griepp said. "Games are a unique product. You have to have other players to play. And these are where networks of players are often formed."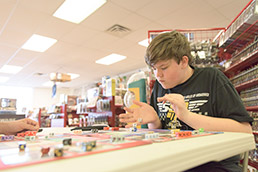 Cameron Wright takes advantage of the free playing space offered at Family Time Games on tables hand-crafted by store owner Shane Priddy. (IBJ photo/Eric Learned)
Sealing the deal

Family Time's Priddy, like many game players, entered the hobby through the role-playing game Dungeons and Dragons. The Indianapolis native loved the game but had trouble finding fellow players once he enlisted in the military.

"There aren't a lot of SEALs dungeon-masters," he said.

But the Navy did put Priddy in proximity to Game Empire, a San Diego store, where his game horizons increased and he soon found himself running in-store games and volunteering at conventions.

"Piece by piece, I was drawn into the industry," he said. And because of his background, Priddy found that industry folks liked talking to him.

After completing active duty, Priddy spent two years as a Navy instructor, where he learned he liked to teach and mentor. He decided to move back home. He became a pole vault coach at Ben Davis High School, took classes at IUPUI and Purdue University, and became a partner in Algaeon Inc., a nutriscience company. After taking a buyout from Algaeon, he decided to make the leap to retailing.

Now, he's trying to bring his own ideas to Family Time Games.

"Here, one of the first things you'll see are gaming tables and space to play," he said. "It's not in the back room. When you see people play, your instinct is to want to be part of that fun. I don't charge for gaming. It's not, 'Buy something or get out.'"

The back half of the store is still a work in progress. It's where he builds more tables, where his kids and those of his fiancee hang out, and where a cafe will be built as soon as the construction details are worked out.

For now, though, the tables have been filling with players and a carefully curated collection of games is steadily moving off the shelves. (The games had better do so, since most manufacturers don't have a return policy.)



Stores vs. online

Still, it's an uphill battle, with Priddy fully aware that some price-conscious shoppers will sample in his store and then buy online. "We are fighting against online resellers who slash prices so low that it cuts into the value of the brand," said Chris Leder, of Seattle-based manufacturer Calliope Games (whose flagship game is Tsuro). If customers "can go online and get it for half price, game stores are hesitant to put in a big order."

In the short term, those individual sales aren't a problem. It's when they put brick-and-mortar retailers out of business that it affects the industry. Calliope, like many other manufacturers, tries to support local retailers by supplying demo copies, organizing in-store tournaments, and eliminating minimums for orders. Some companies also create promo cards and other add-ons that are available only through stores. Some offer different pricing for neighborhood game stores.

While some manufacturers see the discounts as trying to prop up local game stores, others characterize them as an effort to acknowledge the service such stores provide to customers and products.

Industry observers say the battle between online and in-store retailing isn't black and white (or, in the gaming world, not so Gandalf and Saruman). The internet has contributed greatly to the growth of the hobby. Sites such as Boardgamearena.com offer chances to try games first. Dicetower.com and other sources offer instructions and reviews. And online retailers put games in the reach of those who don't have the luxury of a local game store.

But most new games—and hundreds will be released at Gen Con—don't have national advertising. They rely on grass-roots growth through demos at conventions or, more conveniently, exposure through local game stores.

That's where Family Time Games and others around the country come in.

"If you don't support your local game stores," Priddy said, "your local game stores won't be there to support you."•