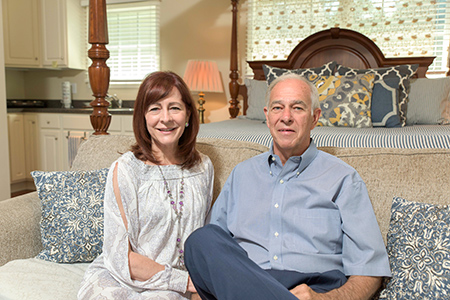 Home-sharing platforms like Airbnb have spread to cities and towns across the country over the past several years, sparking debates about how the service should be regulated.
But Indianapolis-area communities have stayed out of the fight—until recently, when Zionsville ordered a couple to stop offering an apartment above their garage to out-of-town guests.
Steven and Tamara Totty were issued a cease-and-desist letter from the town last summer after a neighbor complained to Zionsville officials. The Tottys requested permission from the Zionsville Board of Zoning Appeals to continue operating on Airbnb, but in July the board refused to make an exception.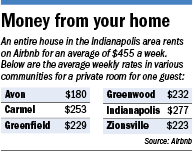 Meanwhile, more than a dozen other short-term rentals in Zionsville continue to be listed on Airbnb. In Indianapolis and surrounding suburbs, hundreds of homes and bedrooms are listed on Airbnb and other peer-to-peer lodging websites, including FlipKey, HomeAway and VRBO.
But so far, there has been little to no oversight by local governments—unless someone complains.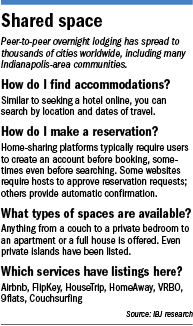 Steven Totty said he believes they are the only Indiana Airbnb host to be shut down. Airbnb did not respond to IBJ's inquiry about whether the company tracks such data, but none of the nearby cities and towns contacted by IBJ have received any complaints or issued any fines or orders.
And Zionsville isn't going after its remaining Airbnb users. Officials have said complaints will be investigated, but the town doesn't have enough staff to proactively issue violations.
Louise Bergmann, a real estate agent with F.C. Tucker and a nearby Zionsville resident who supported the Tottys' request, said it's unfair that other Zionsville Airbnb hosts continue to offer properties without repercussions.
"In general, I don't really think [Airbnb is] that big of a deal," Bergmann said. "We welcome people to our town. We let them walk around our streets. Why do we care where they're sleeping?"
Most central Indiana communities have regulations similar to Zionsville's. Under existing zoning rules, offering property on peer-to-peer accommodation platforms would be considered a business, which aren't typically allowed in residential zones. That means, in most cases, residents would need special permission to rent their homes or rooms online.
But gaining that permission is no guarantee, as the Tottys discovered. And other residents aren't actively requesting it.
"We're happy that there are other Airbnbs. We have no desire to close them down," Steven Totty said. "It's a service that should be embraced, not pushed aside."
According to a recent survey by the National League of Cities, 70 percent of municipalities support the overall growth of the sharing economy, which includes sectors like ride booking and bike sharing, but only 43 percent support home sharing.
"I think it's the newness of it," said Nicole DuPuis, senior associate in the City Solutions and Applied Research Center at the National League of Cities. "It kind of weirded people out to think of a revolving door in their community."
DuPuis said it's hard to quantify how many suburban communities offer home sharing because "the issue moves at such a rapid pace" and the platforms don't initiate what markets to enter, unlike Lyft and Uber ride-booking services.
"Anybody in any community could choose to list their home on Airbnb," DuPuis said.
No outcry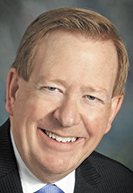 Brainard
Due to the lack of complaints and manpower to check for users, most nearby communities haven't given much thought to the matter.
"This is the first time this has ever been brought to our attention," said Craig Wiley, city attorney for Beech Grove. "I have never heard anybody push back and say, 'We don't want this going on.'"
Carmel Mayor Jim Brainard said his city also doesn't have enough code-enforcement staff to regulate home sharing, but residents are required to obtain permission before listing their properties because they would be considered hotels or bed and breakfasts.
So far, no one has contacted the city to request zoning modifications, but that doesn't mean places in Carmel aren't listed on peer-to-peer websites.
Nearly 200 Carmel rentals were available in a recent Airbnb search, with an average price of $254 per night. Some properties listed for more than $1,000 per night.
About 10 places show up on VRBO, including a five-bedroom, three-bathroom house for $1,295 per night that is being marketed for the 2016 BMW Championship because it's less than a mile from Crooked Stick Golf Club.
Tech entrepreneur Scott Jones lists five bedrooms at his Carmel estate on Airbnb with prices ranging from $95 a night to $295 a night.
"It's an interesting service," Brainard said. "Properly zoned, I think it's fine, but local law needs to be respected."
Plainfield Town Manager Andrew Klinger said planners across the state are discussing the situation. But locally, he said, there haven't been any problems.
"I am intrigued to see how other communities address the issue," Klinger said.
Plainfield has several properties listed on Airbnb, ranging from $49 per night for a private room to $650 per night for an apartment that sleeps six.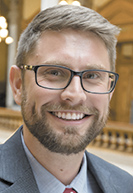 Nicolini
Several Speedway residents took advantage of demand during the Indianapolis 500 by listing their places on home-sharing sites. A five-bedroom house that could accommodate 12 guests about two blocks from the track was available for $1,500 per night on Airbnb.
Speedway Town Manager Ian Nicolini said local officials haven't discussed how to address short-term rentals, but they also haven't received any complaints.
"From our perspective, it's not something that we would be able to control with zoning unless it was done countywide," Nicolini said. That's because Speedway is under Marion County zoning control.
Courting the business

Indianapolis is considered to have a "positive sentiment" toward home sharing, according to the National League of Cities report, because it has deferred action on the issue.
Madi Gregory, spokeswoman for the Indianapolis Department of Metropolitan Development, said the city doesn't view home sharing as a problem for now, and any ordinance changes would come from the City-County Council.
At least one Boone County city is also ready to embrace the home-sharing economy, even though the city currently has only one listing.
"Lebanon is Airbnb-friendly. Being just 25 minutes from downtown Indianapolis makes us an ideal location for the service," Lebanon Mayor Matt Gentry said in an email.
"I feel that welcoming Airbnb and other peer-to-peer services are a great way for visitors to experience Lebanon."
The Tottys believe their apartment provided a service Zionsville needed. Only one official overnight lodging option is available in Zionsville—The Brick Street Inn, which is an eight-unit bed and breakfast.
Also, the Tottys—who have welcomed guests from 34 states and four countries— said they encouraged their guests to eat and shop locally.
Tamara Totty said she spent a week assembling a book packed with a list of restaurants and retailers, menus, maps of trails and neighborhoods, and general facts about the town. It was in the apartment for guests to reference.
"We did this in a very professional way," Tamara Totty said. "It's not just a casual fling. We take our responsibilities very seriously."•
Please enable JavaScript to view this content.