Late last year, when CEO Jon Gilman was trying to raise venture capital for the first time for his tech firm Clear Software LLC, he got a significant boost from a new Carmel-based investment firm.

Charmides Capital put $100,000 into Clear Software, which went on to raise $1.5 million in the round. While that investment was only a slice of the total, Charmides was the second investor to commit, Gilman said, helping make others more comfortable with jumping in.

"These rounds start off really slow because no one wants to be the first investor," Gilman said. "But Charmides was one of the key firms that helped our round start to snowball and eventually get [$750,000] from MK Capital."

Meet Charmides, one of the area's newest venture capital funds—launched in June 2015 by a 27-year-old basketball player from Carmel and his father. Tales like Clear Software's are becoming more common for the firm, which so far has pumped $3 million into seven companies and two other venture capital firms. More deals are in queue.

There aren't many institutional venture investors around town, which makes it difficult for entrepreneurs with ideas for high-growth companies to start and grow. Charmides alone won't change that reality, industry observers said, but its arrival represents progress.

"The Indy entrepreneurial community welcomes them as a new investment partner," Allos Ventures Managing Partner Don Aquilano said, "as there remains a significant gap between opportunity and the capital to fund that opportunity."
Charmides was founded by Jack Eggleston and his father, Carmel businessman Tom Eggleston. The elder Eggleston built a name for himself either starting his own companies or holding executive positions with prominent firms, including Amway. The younger Eggleston plays professional basketball in Germany, and previously worked in real estate.

Jack Eggleston got the idea for Charmides when he and his father attended a wearable-tech conference in California in May 2015. Despite his basketball career, Eggleston was intrigued and wanted to get involved.

Several weeks later, he was making connections with entrepreneurs at the Innovation Showcase in Indianapolis, discussing his newly formed venture firm.

Tom Eggleston, 64, is involved with Charmides, but insists that his son runs the show. He said his own attention is focused on his CEO role at real-estate-software company Renu Management LLC.

The younger Eggleston, who earned a degree in philosophy, politics and economics from the University of Pennsylvania, also has the help of three other U.S. business partners.

The money Charmides deploys comes solely from profits at Renu, which provides information and projections to residential real estate investors and gets a cut of the transaction. Renu has been part of roughly 2,000 closings a year in 15 markets since 2011.

The Egglestons declined to say how big the Charmides war chest is, but after doling out millions, they're still in pursuit of new investments.

Companies receiving funding so far include DemandJump Inc., Bluebridge Digital Inc., Odyssey Media Group Inc. and Clear Software. The two funds are Chicago-based Hyde Park Venture Partners Fund II and Lafayette-based M25 Group LLC Fund II. Both have a presence in Indianapolis.

"It's clear that they're not playing games, as evidenced by the body of work that they've done," said Tim Kopp, who leads the Indianapolis office of Hyde Park. "They've done, what, 10 deals in a year? That's active. That's as active as anybody in the market."
For the nine months of the year that Jack Eggleston is in Germany, he runs Charmides the only way he can—virtually, using applications like Skype, FaceTime and WhatsApp.

He networks in person when he's home during the summer. He recently met with Evan Burns, CEO of Odyssey, and chatted about trends in the media industry.

"Two things I liked: One, they seemed to have an astute understanding of how media actually worked," Burns said, "and two, I like the operational experience that Tom has. He's run major companies all over the globe."

Neither Eggleston has been involved in institutional venture investing before. Tom Eggleston, though, has bootstrapped a few companies, including AutoNation—which reached $1 billion in annual revenue in the early 2000s and inked deals with Microsoft and AOL.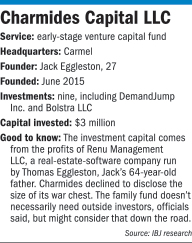 The Charmides team is rounded out by Gary Lemke, a former Hewlett Packard manager; Traves Bonwell, Renu's president; and Andrew East, a long snapper with the NFL's Oakland Raiders. All have a connection to Indianapolis.

Jack Eggleston said he understands he doesn't know it all. In fact, the name Charmides comes from ancient Greek and denotes "temperance, knowing yourself ... and staying within the bounds of what you're capable of," he said.

"My dad and I have some strengths and areas where we think we can add value," he said, "but we try to be really aware of when we're not able to bring any value."

To that end, he's aligned the firm with local investors he can learn from. They include 4G Ventures, which is run byformer Aprimo co-founder Bill Godfrey, and Hyde Park.

Charmides targets early-stage, enterprise-software companies with valuations of $1 million to $6 million and actual revenue, he said.

So far, it's considered about 250 deals, Tom Eggleston said, and intends to keep its investment focus on the Midwest.

Indianapolis, and indeed the whole state, has drawn criticism for its lack of venture capital, and critics have tied that to studies showing area startups have some of the country's slowest headcount-growth rates.

One newcomer won't eliminate that problem, but local venture capitalists say more local capital sources strengthen the tech community—especially when the investors are willing to write big checks.

Institutional investment firms in town, including Allos Ventures and Elevate Ventures, often look for partners for co-investing. Kopp, of Hyde Park, said it's a lot easier when a company can tap a single investor to fill a $200,000 gap than when it has to patch together smaller, individual commitments.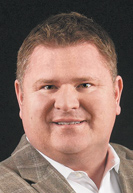 Kopp
Firms like Charmides "are coming in all at once, which means less meetings for the entrepreneur and less complications with diligence, legal and everything else," he said.

For now, Charmides plans to stick to its investing playbook, but Jack Eggleston admitted the pull of investing eventually could tilt his priorities.

"I love doing it, I'm a competitive guy and I'm not quite ready to give it up yet," he said about basketball. "But it doesn't quite satisfy that side of me that's interested in economics, technology and investing."

Kopp said early-stage investing is a lot of work, and the fact the Egglestons chose to invest some of their cash in the tech scene here speaks volumes.

"I think [Charmides] is consciously and strategically investing time because they care about the city and the entrepreneurial ecosystem."•