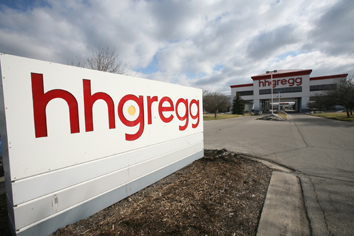 HHGregg Inc. has taken the interim tag off Robert Riesbeck's titles, officially naming him president and CEO, the Indianapolis-based retailer announced Monday.
Riesbeck joined the company in 2014 as chief financial officer. He was appointed interim president and CEO in February after longtime leader Dennis May announced his resignation.
HHGregg said Riesbeck will continue to serve as interim CFO until that position is filled.
Riesbeck, 52, told analysts on a May 19 conference call that he was hoping HHGregg would make his appointment permanent. He said a decision on his future would be made in August, following a six-month trial.

Robert Riesbeck
Riesbeck joined HHGregg as CFO in September 2014, arriving from Boca Raton, Florida-based private investment firm Sun Capital Partners Inc. He spent four years there as operations executive/group CFO overseeing financial operations for a group of portfolio companies with revenues exceeding $5 billion.
From February 2007 to September 2010, Riesbeck was CFO of Indianapolis-based Marsh Supermarkets, which is owned by Sun.
Before that, Riesbeck was CFO of American Golf Corp., and he held business-unit COO and CFO roles at Nike Inc. He began his career with Grant Thornton LLP.
"I am very excited to be appointed the President and CEO," Riesbeck said in a written statement. "Over the past six months, we have made progress toward our top company goal of driving sales growth through our focus on appliances, furniture and large, premium television. The team we put in place over the last 12 months will continue to build on this momentum to achieve our company's growth and profitability goals, and drive the long-term shareholder value of HHGregg."
HHGregg reported a $55 million loss in its latest quarter—the 10th straight quarter with a loss.
The retailer's stock was down 8 cents Monday afternoon, to $2 per share, a drop of 42 percent over the past year.
Please enable JavaScript to view this content.