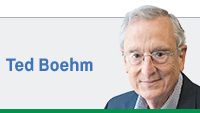 Melania Trump, quoting Michelle Obama without attribution, claimed Donald J. Trump's "word is his bond." Well, apparently not. On the eve of his acceptance speech at the Republican National Convention, Trump offered a startling venture into the unfamiliar territory of foreign policy, claiming he might not only pull out of some treaties but would consider breaching one—the word and bond of our nation.
In a New York Times interview, Trump said if Russia invaded Lithuania, Latvia or Estonia, as president he would direct a military response only if he concluded that the attacked country had "fulfilled their obligations to us." The next day, Mike Pence tried to walk this back, claiming the NYT report also said Trump "absolutely" would honor treaty obligations. Not in my copy. And Trump has since justified his remarks by pointing to America's disproportionate share of NATO's support.
The commitment of all NATO members is that an attack on any member is an attack on all. Every member agreed to respond with "such actions as it deems necessary, including the use of armed force." Only a previous breach of the NATO treaty by an attacked member would arguably permit other members to fail to respond. Trump now implies that the NATO treaty itself has become unenforceable, but he provided nothing to support that conclusion.
The NATO treaty contains a provision that permits members to withdraw. If Trump really thinks we would be better off outside NATO, he can advocate that step. Or if he claims one or more of the Baltic states has breached its obligations, he should support that claim with some evidence. Announcing that he might not honor a treaty obligation is a reckless and short-sighted policy and a breach of the law of nations.
There are consequences to such ill-considered pronouncements. Trump, as the author of a series of books purporting to advise on business, is presumably familiar with a cardinal rule of business: A deal is a deal. Any businessperson who wants to maintain his or her credibility and be able to conclude bargains in the future needs to honor past commitments. What nation will be willing to enter into a treaty with us if we are led by a president who claims the right to disregard it?
Perhaps even more serious is the potential effect of Trump's statement on potential aggressors. Trump's implicit claim that he would have the right to evaluate whether an attacked Baltic state is somehow in default of its obligations can be taken by Putin to imply that Trump believed the Baltic state is in breach of the NATO treaty. Putin's actions in Ukraine demonstrate a willingness to exploit any showing of lack of resolve by NATO. If Trump is elected, his casting doubt on that resolve undermines the deterrent value of the NATO commitment.
The three Baltic states are the nearest NATO nations to Russia. The population of all three is less than Indiana's. Their collective military capability is undoubtedly insufficient to resist naked Russian aggression. Poland is next on the firing line if they suffer the same fate as Crimea and Eastern Ukraine. Trump's apparently unscripted remarks at best raise concern for the reliability of America's commitment, and at worst could encourage an invasion. They demonstrate once more how unprepared and temperamentally unsuitable Trump is to lead our country.•
__________
Boehm is a retired Indiana Supreme Court justice who previously held senior corporate legal positions and helped launch amateur sports initiatives in Indianapolis. Send comments to [email protected]
Please enable JavaScript to view this content.