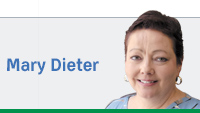 Many in America are reeling that the party of Lincoln chose as its nominee a misogynistic and racist reality-show character with no verbal filter and an unseemly affinity with dictators.
Donald Trump has turned America's politics upside down and perhaps no state has felt the tumult more intensely than Indiana, from where he plucked the hapless and mistake-prone Mike Pence as his running mate. That anyone would see Indiana's lightweight governor as a counterbalance to Trump's spectacular inanity is almost inconceivable. But there you have it, a move that set off an unprecedented domino effect in Indiana politics.
Indiana Republicans inexplicably chose Eric Holcomb to replace Pence as their gubernatorial candidate. They could have assuaged some justifiable anger among women by choosing U.S. Rep. Susan Brooks, but instead chose a political operative who was appointed lieutenant governor last spring and whose name recognition reportedly is in the teens. The few Hoosiers who recognize him may know him only as an opportunist who hitched his wagon to an ineffective and dangerous ideologue.
Now it appears Holcomb, running for his third office in five months, cannot legally inherit Pence's war chest, leaving him vastly behind Democrat John Gregg's fundraising when Holcomb desperately needs to introduce himself to Hoosiers. No doubt Pence's pals, the Koch brothers, will help out, but Holcomb has to dig out of a tremendous hole and has little time to do it.
Will the unpopular Pence hurt Trump's chances in Republican-heavy Indiana? Will Holcomb's awkward start damage not only his own chances but those of candidates down ticket? We'll see.
Meanwhile, Democrats have their own version of musical chairs, although perhaps a less destructive one. Baron Hill selflessly resigned from a U.S. Senate race in which he was a serious underdog, making way for Evan Bayh, the former senator and governor, to enter the race and flip the likely outcome. Those who criticize Bayh for spending the last six years as a Washington consultant forget that Republican Dan Coats, who is retiring, did exactly the same thing before his one-term return to the Senate. Nobody cares.
In his previous statewide races, the popular Bayh seemed to lack coattails. But his presence on the ballot might bring more Democrats to the polls, even those insufficiently motivated to vote for Hillary Clinton or against Trump. Though Hoosiers are ticket-splitters, that surely will help down-ticket Democrats running for lesser statewide offices and the Legislature.
This year's weirdness might have long-term repercussions. Brooks' banishment and that of U.S. Rep. Todd Rokita mean they'll both return to their House races. But they're damaged goods, having demonstrated their ambitions exceed their commitment to congressional constituents. They'll win re-election because their party is so adept at flagrant gerrymandering but they might have harmed their futures.
Bayh, so frustrated by partisanship that he voluntarily bolted the Senate in 2010, might not serve out his term. Maybe his reward for helping Democrats retake the Senate majority, if that happens, will be an appointment to the Clinton cabinet. That scenario could end with Hill winning a Senate seat after all.
If Trump loses, Pence might rise to the top of the list of possible Republican presidential candidates in 2020. How weird is that? Even weirder: That might set up an extraordinary rivalry between him and fellow Hoosier and former Gov. Mitch Daniels, who probably is dying a little inside as he watches his party's antics this year.
We'll see.•
__________
Dieter, a writer and an editor, is the former Statehouse bureau chief for The Courier-Journal and press secretary for Gov. Frank O'Bannon. Send comments to ibjedit@ibj.com.

Please enable JavaScript to view this content.