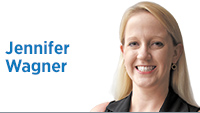 There are politicians you grow up with, and there are politicians you grow with.
Think of all the people who define themselves as Reagan Republicans or Clinton Democrats—or the Never Trumpers who are defined by a candidate they despise.
I was born the year Ronald Reagan was elected and came of age during the Clinton years, but really started paying close attention to politics as a journalism major at Indiana University. But it wasn't until four years later that politics changed my life.
It was the fanciest party I'd ever attended, a soiree sponsored by the Democratic Governors Association at the 2004 Democratic National Convention.
I wasn't there as a delegate; my boss at the time happened to be married to the state Democratic chair. My boyfriend—now husband—had a friend who lived in Boston and we went out to the convention to see what we could attend. It was a Tuesday night, and we found ourselves eating shrimp and drinking martinis at the Boston Harbor Hotel. I was 23 years old.
In addition to the piles of food and countless open bars that are the staple of every convention party, they'd set up huge television monitors where guests could watch the speeches.
A 42-year-old state senator from Illinois was giving the keynote address.
He started out slow and built up momentum, a lilting cadence that's now familiar to the American people. It was professorial, but in a way that keeps the class riveted.
I stopped and stared and listened.
And then he got to this passage: "Now even as we speak, there are those who are preparing to divide us, the spin masters and negative ad peddlers who embrace the politics of anything goes. Well, I say to them tonight, there's not a liberal America and a conservative America; there's the United States of America."
A star named Barack Obama was born. John Kerry would go on to lose that election, but out of that loss—and that moment in Boston—would begin a new era for the Democratic Party.
There are those who say politics is for the hard of heart—and they're not wrong. The 2008 Obama presidential campaign was tough as nails. Winning took tenacity and a well-executed strategy.
But Obama did it with a message that was then and has never been more imperative: hope and change. We're better together, and that's how we can get things done.
President Obama, now closing out his second term, brought down the house with another rousing speech on the third night of the 2016 Democratic National Convention. Twelve years after he spoke in Boston and eight years after defeating her in the primary, he strongly backed Clinton as the party's nominee.
She faces billionaire businessman Donald Trump, whose speech at his party's convention was filled with despair and fear and darkness.
Obama responded: "America has never been about what one person says he'll do for us. It's about what can be achieved by us, together, through the hard and slow and sometimes frustrating, but ultimately enduring, work of self-government."
Watching him speak, I was back in Boston, a kid standing in front of that television screen, transfixed by a man who represented a path forward where we seek common ground and respect our differences.
Can we find that place again? Can we embrace that message? In my heart, I believe the answer is: Yes, we can.•
__________
Wagner is a lifelong Indianapolis resident and founding principal of Mass Ave Public Relations, a local public relations and publicity firm. Send comments to ibjedit@ibj.com.

Please enable JavaScript to view this content.