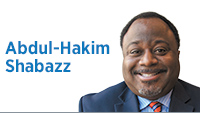 As we try to come to terms with recent events in the news regarding fatal police-action shootings, it's only fair that we start with the facts. I do believe the best way to address the issues we're seeing is not with shouting and screaming but conversation and listening and looking at what the data has to say.
The Washington Post did an excellent analysis of fatal police-action shootings for 2015. While the newspaper found nearly 1,000 police-action shootings took place, a breakdown portrays a different picture than what we might see in the media or what we want to believe as part of our own respective narratives.
Here's what the Post found. Out of 965 shootings in 2015:
■ 564 victims were armed with a gun.
■ 281 had another weapon.
■ 90 were unarmed.
A majority of the shootings fell into three categories:
■ The suspect was wielding a weapon.
■ The suspect was suicidal or mentally troubled.
■ The suspect ran when officers said stop.
In 75 percent of the cases, the Post found, the police were under attack or defending someone.
■ 31 percent of suspects pointed a gun at officers.
■ 28 percent were shooting at the cop or someone else.
■ 16 percent were attacking the officer with another weapon.
While white cops shooting unarmed black men were less than 4 percent of police-action shootings, 40 percent of the unarmed shootings involved black men. A majority of the suspects who were shot while armed were white. Three in five of the individuals shot after exhibiting "less than threatening" behavior were black or Hispanic. And when adjusted for population, blacks were seven times more likely to be shot than whites.*
It is rare for an officer to be charged in a police-action shooting. And only 11 officers of the 65 charged in the past decade have been convicted.
According to the National Law Enforcement Memorial Fund, 124 officers were killed in the line of duty 2015. Forty-two were killed by firearms, 35 by auto and motorcycle accidents, and 30 from job-related illnesses.
The average age of the officer killed in the line of duty was 40 and had been on the job 12.5 years.
I present to you these facts, because you can't address an issue until you know exactly what you're addressing. I think there is merit to both sides of the argument about the relationship between police and certain segments of the community, but in order for conversations to take place, there has to be a starting point. I hope this will be part of the discussion.
*The only concern I had with the Post data is that it said blacks were seven times more likely to be to shot by police than whites. That's a problem I have with a lot of racial statistical data because the black population is much smaller than the white population. So, for example, if I have 1,000 whites and 100 blacks in a room and 10 of each group is shot by police, while the number is the same, the percentage for whites is only 1 percent, while for blacks it is 10 percent. So anything that happens to blacks will disproportionately be larger.•
__________
Shabazz is an attorney, radio talk show host and political commentator, college professor and stand-up comedian. Send comments to ibjedit@ibj.com.
Please enable JavaScript to view this content.