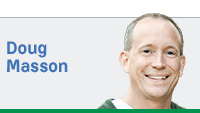 To many Hoosiers, the instability of modern times is unsettling: Men marrying men. It is no longer certain that your neighbor will subscribe to any religion, let alone Christianity. Jobs are insecure. Skills that pay well today might be obsolete tomorrow. Newspapers and social media constantly sound the alarm of crime and danger. (Never mind that crime has been steadily decreasing for a long time.)
Our times are not, however, uniquely troubled. Hoosiers in the early 1920s were stressed by prior decades of upheaval. Presently, there are those advocating a fearfulness of Muslims and immigrants. Back then, it was Catholic immigrants. People were entering the state from parts of Europe that were predominantly Catholic. The population was shifting from the countryside to the cities as industry increased and a smaller portion of Hoosiers was employed in agriculture.
The Progressive Party movement had successfully advocated a significant change in the citizen's relationship to government. Among other things, government was newly involved in the purity of food and drugs; health departments were created and had authority to adopt regulations to combat typhoid fever, smallpox, and tuberculosis; railroad and highway commissions were created; child labor laws were imposed. The Catholics had a reputation for drinking quite a bit. So, the primarily protestant temperance movement advocated prohibition. Women were given the right to vote.
World War I blunted the incursion of the Progressives into everyday life but imposed its own intrusions. A compulsory draft was implemented. Herbert Hoover, then head of the U.S. Food Administration, declared "food will win the war" and established "meatless Mondays," "wheatless Wednesdays," and price controls to maximize food production. As if that were not enough, in 1918 and 1919, the worldwide influenza epidemic swept through Indiana, killing 10,000 Hoosiers. Public gatherings were banned.
By 1920, Hoosiers were bone weary of change. The otherwise uninspiring Warren Harding campaigned on a return to "normalcy" and was elected decisively. Unfortunately, this weariness left Hoosiers vulnerable to an unscrupulous grifter willing to exploit their anxieties for power and profit.
In 1920, D.C. Stephenson came to Evansville. He described himself as "a nobody from nowhere, really." By 1925, he would declare, "I am the law in Indiana." He was the son of a sharecropper, a recruiter for the army, and a traveling salesman who had a habit of leaving his wives. He really hit his stride when he joined the Klan. The Klan of that time liked to dress itself up in American exceptionalism and protestant Christianity. But it promoted these values in ways that were negative and wicked—"defending" them against Roman Catholics, the foreign born, Jews, blacks and the "immoral."
Hoosier anxiety about change made them vulnerable to Stephenson's sales pitch. He was remarkably successful. By 1925, one-third of the white men in the state were Klan members. Stephenson kept $4 for every member he recruited, and he engineered the election of a governor.
However, Stephenson was an arrogant monster. When he was put on trial for the rape and murder of a young woman, he brought the Klan down with him. Hoosiers largely came to their senses and left the Klan in droves.
History does not repeat, but it rhymes. We have a presidential candidate displaying the hallmarks of a grifter rising to power by exploiting anxieties and weariness of change. In more than a few ways, his pitch resembles that of Stephenson in the '20s. I hope we do not have to endure a period of madness before we find that pitch unappealing.•
__________
Masson is a Lafayette attorney, author of Masson's Blog and former counsel for the Legislative Services Agency. Send comments to ibjedit@ibj.com.

Please enable JavaScript to view this content.