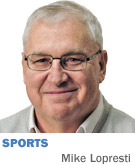 Oh sure, any Indiana college will be glad to sell you a season ticket for football. But one like this?
This is the Go Anywhere Pass, just in time for a season rapidly approaching. Designed to answer the question, "If I wanted to see a game in the state every week this season that had a notable and/or screwball angle, where would I go?"
This is where you'd go.
Sept. 3: Thomas More at Franklin
Lately, the Grizzlies have owned the Heartland Conference lock, stock and Hanover, winning six titles in a row. But before they get to the business of going after No. 7, they face a non-league head-knocker with No. 11-ranked Thomas More. So much for easing into the season.
Sept. 10: Marian at University of Indianapolis
They call it the Monumental Matchup, and the urge for revenge certainly got monumental last season for Indianapolis, after the Greyhounds took their Division II credentials 12 miles across town to NAIA Marian for their first meeting ever, and lost 28-22. Marian did end up national champions, but now it's payback time on UIndy's field. Or not.
Sept. 17: Michigan State at Notre Dame
It'll be the night to say Happy 50th Anniversary to the Irish and Spartans of 1966, who played their famous Game of the Century that ended up a 10-10 draw. A half-century later, Ara Parseghian is still having to explain why he played for a tie. And he's 93.
Sept. 24: Nevada at Purdue
The Darrell Hazell Preservation Society understands it would be a really good idea to win this one, and maybe be 2-1 or 3-0. It'll also be a chance to see who's starting at quarterback for the Boilermakers. One never knows, since they've used 10 since 2008. Shouldn't have trouble finding a seat. Purdue averaged 37,508 in attendance last season. Just 10 years before, the average was 62,996.
Oct. 1: Michigan State at Indiana
Here's a shocker: another new defensive coordinator for the Hoosiers. George Steinbrenner used to go through managers like that. Indiana will score points, of course. Kevin Wilson offenses do that falling out of bed. But this will be the first chance for that defense—and the Hoosiers at large—to make a real statement, against the reigning Big Ten champions who have lost in Bloomington once in 22 years. It's a night kickoff. Given the traffic headaches through the Martinsville construction zone, it'd be a good idea for Indianapolis fans to leave at 10 a.m. On Friday.
Oct. 8: McKendree at Indianapolis
The Big Two of the Great Lakes Valley Conference. UIndy has won the league every season of its four-year existence. McKendree was the only other conference team with a winning record last season. So this is like Alabama-LSU in the SEC West. Sort of.
Oct. 15: Stanford at Notre Dame, Nebraska at Indiana
Wild card Saturday. Take your pick. Did you know old Stanford quarterback Andrew Luck was 3-0 against Notre Dame? Oh, if only it were that way against the New England Patriots. Did you know Dwight Eisenhower was president the last time Indiana beat Nebraska in football? That was 1959.
Oct. 22: Akron at Ball State          
Don't you love college football on a Saturday? If you do at Ball State, better get to this game. Since the Mid-American Conference decrees its teams play weeknights late in the season in search of TV dollars, this is the last Saturday game of the season for the Cardinals. It's Tuesday and Wednesday from here.
Oct. 29: Butler at Valparaiso
OK, maybe this matchup gets noticed more when it's basketball season. But the Hoosier Helmet is on the line—move over Monon Bell and Old Oaken Bucket—and not many college football duos can say they have played each other through four different conferences.
Nov. 5: Bluffton at Earlham
We know what you're thinking: "Why?" It's Earlham's final home game and let's just hope the losing streak—currently at 23 and tied for second-longest in the nation, any division—is not still climbing. The school has gone to some scheduling lengths to end it. For the season opener, the Quakers found a team 500 miles away in the Blue Ridge Mountains, southern Virginia, that was 0-10 last season by a combined score of 503-82. And if that doesn't work, Earlham is going to Washington, D.C., the second week to play Gallaudet, 0-9 last year by a combined score of 373-78. And if that doesn't work, well, this might be No. 32 in a row.
Nov. 12: DePauw at Wabash
Wabash has won seven consecutive Monon Bell games by a combined score of 257-67. In Crawfordsville, they call that a glorious winning streak. In Greencastle, on the DePauw campus, it's the Dark Ages.
Nov. 19: Wisconsin at Purdue
Wisconsin has beaten the Boilermakers 10 meetings in a row, so no guarantees on this one. The suggestion is to make a week of it, and get to Purdue Monday for the basketball game against Villanova.
Nov. 26: Purdue at Indiana
No matter what the Big Ten or TV people say, this game doesn't belong on Thanksgiving weekend. Indiana probably likes it fine, though, having turned the rivalry lately into the Oh-Oh Oaken Bucket for Purdue.
See? A lot of variety with the Go Anywhere Pass, and that includes the attire.
We'll start in shorts. We'll end in parkas.•
__________
Lopresti is a lifelong resident of Richmond and a graduate of Ball State University. He was a columnist for USA Today and Gannett newspapers for 31 years; he covered 34 Final Fours, 30 Super Bowls, 32 World Series and 16 Olympics. His column appears weekly. He can be reached at mlopresti@ibj.com.
Please enable JavaScript to view this content.