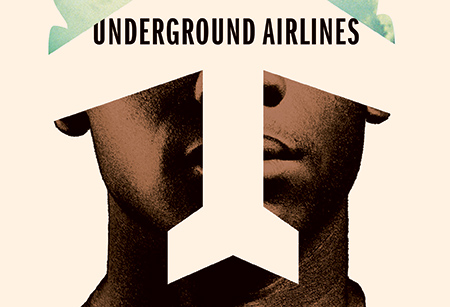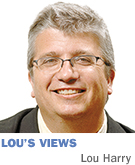 In a stark case of literary brain drain, Ben H. Winters—an IBJ 40 Under 40 honoree from 2015—packed up and moved west just as his breakthrough novel, "Underground Airlines" (Mulholland Books), was about to be released.
A shame. A staple at book events throughout the city and a contributor to the "Indy Writes Books" anthology, Winters gained some attention for such mash-up novels as "Sense and Sensibility with Sea Monsters" before crafting his "Last Policeman" books—a crackerjack, existential trilogy about a police officer committed to doing his job even after it has become clear that an asteroid is about to collide with and destroy Earth.

Winters
Winters jumps into an even bigger league with "Underground Airlines," released in early July. It's largely set in Indianapolis, but while some of the streets and landmarks might be familiar, the world is markedly different from the one we live in. The catalytic conceit is that the Civil War never occurred (thanks in part to Abraham Lincoln's being assassinated before taking office) and slavery is still legal in a quartet of states, nicknamed "the Hard Four."
"Underground Airlines" is far from the first alternate-history novel to imagine an America where the War Between the States was either lost by the North or didn't happen at all. But Winters adeptly extrapolates from that premise to create a world where the very idea of America has been compromised out of any sense of moral superiority. It's a world where foreign countries place high-road sanctions against us, where goods created by slave labor are technically unwelcome (but, of course, attainable for the right price), and where skin color is assessed on a scale akin to what you might find in a paint store.
In short, it's nearly as depressing a place as the about-to-be-destroyed world of "The Last Policeman" books.
The protagonist of "Underground Airlines" is Victor, a man suppressing his memories of his time as a slave. A runaway, Victor was captured after years in the North and, in order to keep his freedom, he's been trained to capture others.
This is where Winters has created a challenge, putting at the center of his book a man who has been responsible for the return of more than 200 people to horrifying conditions. And that proves a tough hurdle to get over, even as Victor pieces together the world behind the world he thinks he knows. As much as I wanted to buy Victor's story, I found myself far more interested in the world Winters had created than I was in the specific people in it.
What "Underground Airlines" does effectively is remind us that, while history appears to be a given, it's actually made up of a long series of decisions by many people reacting to situations with limited information.
The cold reality is the plausibility of Winters' alternative America. At its best, "Underground Airlines" reminds us that history is happening right now and the future isn't a given.
In other Indiana-connected author news:
■ Purdue associate professor Roxane Gay, author of the essay collection "Bad Feminist" and the harrowing novel "An Untamed State," has been recruited by Marvel Comics to contribute to World of Wakanda, a companion series to its popular superhero Black Panther. The first issue should hit comic-book stores in November. Here's hoping for a movie deal.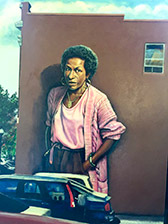 A new Mass Ave mural, created by Michael Jordan aka Alkemi, celebrates poet Mari Evans. (Image submitted)
■ A mural honoring Indianapolis-based poet Mari Evans has been completed, taking over the north side of the Davalan/Hoosier Building at 448 Massachusetts Ave. Funded by a grant from the Indiana Arts Commission as part of the Indiana Bicentennial Celebration—with support of the Efroymson Family Fund—the artwork is being created by Michael Jordan, aka Alkemi. It's a project championed by Big Car Collaborative chief curator Shauta Marsh in part to increase the visibility of the poet and her work.
■ "March: Book 3," the latest installment in the series of historical graphic novels by U.S. Rep. John Lewis that I raved about in this space earlier, is in stores now. Bloomington's Nate Powell once again provided the illustrations.
■ This year's Eugene & Marilyn Glick Indiana Author Awards have been announced. The National Author Winner, Karen Joy Fowler, is the best-selling author of "The Jane Austen Book Club." Her most recent title, "We Are All Completely Beside Ourselves," won the PEN/Faulkner Award. In the Regional Author category, Philip Gulley, author of the popular "Harmony" series of small-town novels, took the prize. And a Genre Excellence Award went to children's picture-book writer April Pulley Sayre, whose "Raindrops Roll" was an ALA Notable book.
■ "Dictionary of Midwestern Literature: Volume Two," from Indiana University Press, released in July. Children's author/illustrator Devon Kondaki is making the rounds to libraries, bookstores and schools with his "The Mystery of the Magical Bwa Bwa Fruit." And Kelly O'Dell Stanley has her latest book for the faithful, "Designed to Pray: Creative Ways to Engage with God," just released from Tyndale Momentum books.
Keep book news coming to me at lharry@ibj.com.•
__________
This column appears weekly. Send information on upcoming arts and entertainment events to lharry@ibj.com.
 
Please enable JavaScript to view this content.