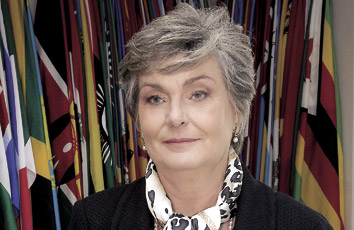 Diane Thomas isn't going quietly into retirement. She's going to work in the Ukraine first.
Thomas, president and CEO of The International Center, is moving on to a new project. Thomas announced last week that she will be leaving the organization at the end of the year to join the Peace Corps. In March, she will begin a 27-month assignment in the Ukraine.
The 58-year-old said she knew that she "had one big project left in me," but didn't know what that was going to be. She attended a presentation at IUPUI where faculty members shared their experiences in the Peace Corps, including some who took positions marketed to those 55 or older.
"I thought that's it. That's what I want to do."
She started searching the Peace Corps website for openings that she qualified for, eventually finding a position as an adviser to non-governmental and charitable organizations. It is a role that she believes will allow her to use her talents to help the country grow and strengthen its civil society.
"I've always thought highly of service, and it just seemed like the right thing to do now for me," she said.
Thomas will travel with 47 other volunteers as a part of a community economic development" project. After arriving in the Ukraine, she'll take part in three months of training before being given a specific job.
"When Diane first mentioned this possibility to me, I had to smile," said Robert Postlethwait, chair of The International Center's Board of Directors. "I could only think of this as potentially the role that she has been building up to and preparing for all her professional life."
Thomas was born in Libya and grew up in France, Germany and the United States, and has traveled extensively—experience that has her confident that she'll be able to adapt to a new country.
"I'm very comfortable in an international environment," she said. "It doesn't intimidate me."
Thomas has led The International Center since 2006 and was named an IBJ Woman of Influence in 2011. During her tenure, the Indianapolis-based not-for-profit more than doubled its annual budget. Last year, the center received a $5 million sustainability grant from Lilly Endowment.
Joerg Schreiber, a long-time member of The International Center board and current member of the executive committee, is leading the search for a new president and CEO. He said that Thomas' reputation and connections in Indianapolis will be difficult to replace.
"She knows the decision-makers in the community," he said. "[Her successor] will have to gain an understanding for how Indianapolis works."
However, Schreiber made it clear that the search will not be limited to just the Indianapolis area. He said that ads will be posted for the position on not-for-profit industry websites and that he expects "to get applications from all over the place."
He also said the board would like to have someone in place four to six weeks before the end of the year, which would allow Thomas time to work with her successor and ease the transition.
 
Please enable JavaScript to view this content.