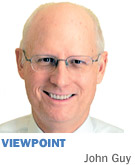 A friend's email—"We should not talk politics because it will damage our friendship"— reminded me of the most virulent political conversation I ever heard.
Between my mother and her mother.
In 1950, Sen. Joseph McCarthy of Wisconsin gave a Lincoln Day speech in which he purported to have a printed list of 250 Communists working in the State Department. According to Mom, the Chicago Tribune became an ardent champion of McCarthy and his cause. My grandmother agreed with McCarthy. In Grandma's view, the nation was under constant threat of Communist subversion. Mom did not see it. Mom shouted. We left, Grandma in tears, Mom massively frustrated at a woman, she said, "who gets all her news from the Chicago Tribune."
At 9 years old, I did not understand or appreciate the level of acrimony. At 75, I still don't. Why does my friend feel powerfully that "the last 7-1/2 years have been the worst in U.S. history," that "HRC is a liar and crook who will only continue the last period of terrible policy," that "Trump is a flawed candidate but anyone is superior to HRC," "that our country is declining in every respect" while referencing only giant over-statements about a military made weak by destructive presidential leadership.
And guess what: My friend proudly states, "I get all my news from Fox."
My grandmother had to deal with four personal and historic circumstances. She was young during World War I, witnessed "The Red Scare" as communist ideas emerged from Russia, undoubtedly feared for her son in World War II and, on the personal side, her sources of information were limited to one or two newspapers. She could not have imagined the volume and variety of news sources we know today.
On the other hand, her daughter, my mom, was a top student at the University of Illinois, as was her husband, my father. They did have numerous sources of news and opinion, the flow of ideas common in university settings, and, like all young people, they rebelled against their parents' ideas, which, in this case, gave Mom a questioning, critical view of the absurd and unsupported allegations of McCarthy.
So, why does my friend today, and millions like him, blindly accept hyperbole? Why did a colleague of mine stop working more than an hour a day to listen to Rush Limbaugh? Why do so many accept the unsupported generalizations of Glenn Beck, and why do they give weight to the comments and books of coffee-cup-T-shirt-selling-high-speaker-fees-high-school-history-teacher-turned-ghost-written-author Bill O'Reilly?
Social and political scientists have no provable specific answers, although intuitively we can assume that basic human experiences motivate the attitude and the pride in "getting all my news from Fox." The motivating, controlling experiences inexorably involve personal relationships with parents and family, business challenges, personal health difficulties and the absence of offsetting experiences such as world travel.
I am trying to change my friend's mind. The chance of success is, well, you know: close to zero.•
__________
John Guy is a wealth manager and author of "Middle Man, A Broker's Tale."
Please enable JavaScript to view this content.