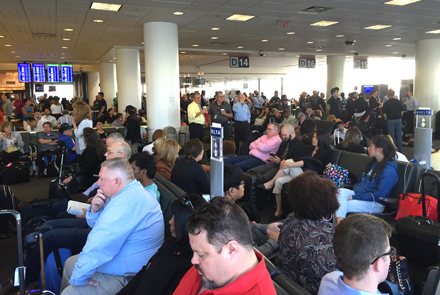 Delta Air Lines has grounded flights and predicted widespread cancellations Monday after a power outage hit its computer systems globally, disrupting the travel plans of thousands of passengers.
The Atlanta-based carrier said in a statement that the outage began at around 2:30 a.m. Indianapolis time. Flights which were already en route were operating normally, but many passengers took to Twitter to express frustration with being stuck on the ground.
"We are aware that flight status systems, including airport screens, are incorrectly showing flights on time," the company said in a statement. "We apologize to customers who are affected by this issue, and our teams are working to resolve the problem as quickly as possible."
The problems were throwing off travel plans for thousands of passengers planning to fly into or out of Indianapolis International Airport Monday morning. Sixteen Delta flights had been scheduled to take off from Indianapolis between 5:55 a.m. and 10 a.m., according to flightstats.com. Destinations ranged from Raleigh/Durham, North Carolina, and Orlando, Florida, to Boston, Detroit, Minneapolis and New York City.
IBJ tech writer Jared Council, who was stranded in Philadelphia after his flight to Indianapolis was affected, said Delta gates there swelled with passengers with different departure times, and several people resorted to seats on the floor.
Delta gate agents gave frequent announcements, apologizing, explaining and giving updates. Every message included some variation of what one representative said around 7:40 a.m.—"we are just not able to do much."
Some passengers were visibly irritated, shaking their heads after announcements and making phone calls expressing discontent to loved ones. Some passengers moved to cancel their flights altogether.
But at least a few took the situation in stride, acknowledging it could be worse.
"Getting mad isn't going to do anything about it," said Jim Young, 43, of Bridgeton, New Jersey, who was headed to Seattle for business training. The Air Force veteran said he was used to arriving for flights for tours of duty eight to 12 hours ahead of time, "so waiting doesn't bother me much."
"Yeah, it's a bummer, but I would be up anyway," said Katey Armstrong, 24, of Philadelphia. The technology consultant flies to Milwaukee every week for work.
Noting that it's not cutting into a vacation time or other personal time, she said, "If I don't get there on time, I'm OK about it."
Confirmation of the troubles first came in an official account that responds to customers via Twitter. The company had said its IT systems were down "everywhere" and "hopefully it won't be much longer."
Several applications were affected, including the company's website.
Stephen Smith, 32, of Baton Rouge, Louisiana, told The Associated Press he had been stuck on the ground for about three hours at Tokyo's Narita Airport on a flight that was supposed to go to Shanghai.
Smith took solace in the fact the air conditioning on the plane was working and said it seemed everyone on board was fine.
"Waiting game at this point," he tweeted.
Airline data company Flightaware said there were at least 858 cancellations and 7,359 delays across the global industry on Monday morning. It's unclear how many are related to Delta's problems and whether Delta's groundings are reflected in the numbers.
Computer outages have caused major headaches for airlines and travelers before. Southwest Airlines was forced to cancel more than 2,000 flights across the U.S. last month after technology problems prevented many travelers from checking in or boarding flights.
Please enable JavaScript to view this content.