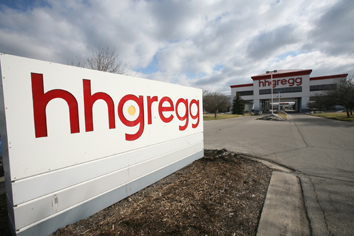 HHGregg Inc. plans to to close six stores, including all five of its stores in Wisconsin, ending a push into the Cheese State that began in 2012.
The Indianapolis-based electronics and appliance retailer said Monday that three stores in Milwaukee, a store in Green Bay and a store in Appleton will shut their doors, in addition to another in Vernon Hills, Illinois. The Vernon Hills store is about 20 miles south of Wisconsin in the north Chicago suburbs.
HHGregg opened the Wisconsin stores in August 2012, occupying space formerly used by defunct big-box retailers Circuit City, Linens & Things and Borders. Each store has about 40 to 60 employees.
"At HHGregg, we pride ourselves in being focused on serving our customers in the best possible way," the company said in a written statement. "As a natural course of business, we regularly evaluate our real estate positions to determine when and where new store openings, relocations, or at times closings make the most sense for our customers and our company."
Employees affected by the closings will have the opportunity to work at another HHGregg store, the company said.
Besides closing stores, HHGregg also is making more personnel moves, adding to several the company has announced in the past week.
The company has named Kevin Kovacs its new chief financial officer to replace Robert Riesbeck, who was appointed CEO on Aug. 1.
Since joining HHGregg in 2009, Kovacs held the titles of vice president/controller and director of tax and treasury. Before joining the company, he was director of tax and treasury for Indianapolis-based Steak n Shake, and as a senior tax manager at the KPMG LLP accounting firm.
In addition, Samuel Johnson has been promoted to chief retail officer. Since joining HHGregg in 2010, Johnson has been senior vice president of stores.
HHGregg will have about 220 stores in 19 states after the closures.
The closings come as HHGregg attempts to achieve profitability and launch 25 to 30 Fine Lines specialty stores within the next two years.
Fine Lines features high-end appliances featured in HHGregg showrooms that HHGregg brands as Fine Lines. The showrooms are connected to existing HHGregg store locations.
HHGregg currently has 14 Fine Lines locations, including two in Indianapolis stores at 4161 E. 96th St. and  8921 S. U.S. 31. The concept is an extension of the retailer's recent strategy to focus more on appliances and furniture to counter softness in the consumer electronics sector.
The company hasn't turned a profit in nearly three years and lost $7.2 million in its latest quarter.
HHGregg shares were trading Tuesday morning at $2.05 each, down 5 cents from the opening price.
Please enable JavaScript to view this content.