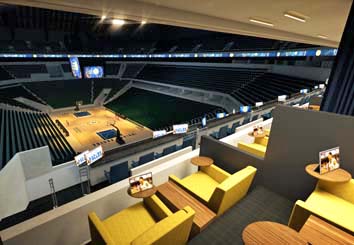 The Indiana Pacers on Friday unveiled plans and renderings for a newly remodeled section of Bankers Life Fieldhouse, along with a multi-year naming rights deal that likely will score the Pacers more than $1 million.
The NBA team is turning seven suites at the south end of the Fieldhouse—just above the Legends restaurant—into a single entertainment area with a club-like feel that could serve as an alternative for fans who want high-end amenities without committing to an entire suite.
The new $2.8 million space, with a capacity for 104 guests, will be called the Sells Group Loft.
The city's Capital Improvement Board paid for the renovation as part of a larger $160 million, 10-year finance deal with the Indiana Pacers for the operations of the Fieldhouse. As part of the 2014 deal, the city agreed to make $33.5 million in improvements to the 17-year-old venue.
Pacers officials told IBJ they arranged a naming rights deal for the space with Sells Group, a locally based digital marketing and development firm.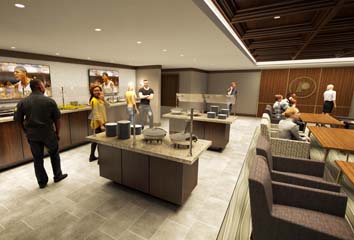 The interior space will feature a U-shaped bar, two buffet areas, and seating for casual conversation and dining. (Image courtesy Indiana Pacers)
Pacers and Sells officials said the naming rights pact is a five-year deal, but declined to provide financial details. Sports marketers estimated the deal was in the low to mid six figures, netting the Pacers seven figures over the span of the agreement.
Pacers' sales chief Todd Taylor said the naming rights deal "was a pretty quick sale."
"Sells Group saw the value and jumped right in," he said.
Sells Group, which is new to the sports sponsorship scene, will get multiple signs in the new space along with in-arena advertising and other marketing elements.
Founded in 2012 by Hoosier native Patrick Sells, the company now has 55 full-time employees at its downtown office at 47 S. Pennsylvania St., just a block north of the Fieldhouse.
Sells, 25, told IBJ he wants Sells Group Loft to be a unique amenity.
"We're working with the Pacers on a lot of different ways to activate the space," said Sells, a Taylor University graduate. "We want the space to inspire and excite."
Sells intends to float suggestions such as cocktails named after the company's core values.
Sells Group first bought Pacers season tickets last year. When Sells'  ticket representative informed him about the newly planned space, he asked about getting his company involved beyond just buying tickets for the loft.
"We're looking for fun ways to explain who we are, and have people experience who we are, to differentiate our firm from other [marketing] firms," Sells said.
The new space will feature a large, U-shaped bar, two buffet areas, seating for casual conversation and dining, plus 12 sets of four theater seats stacked two-by-two and 14 sets of four side-by-side loge seats that directly overlook the court below. Each set of theater seats will come with iPads, and each of the loge boxes will have two fixed flat screens.
A set of four tickets for loge boxes will cost $50,000 annually and a set of four tickets for theater boxes will cost $70,000 annually. Both options include two parking passes and food and drink, which Pacers officials promise would be high-end.
The space is designed by global architecture and design firm Populous, which has worked on pro sports venues such as Amway Center in Orlando, Florida; Yankee Stadium in New York; and The O2 Arena in London. Populous also conducted a local study to help the Pacers set the price for tickets in the space.
Ticket buyers will gain admittance to all Indiana Fever games, all Indiana Pacers regular season games and other events held annually at the Fieldhouse. Tickets for the space will be sold in three-, five-, and seven-year packages.
Renovation of the space kicked into high gear this month. Pacers officials hope to have it ready by the team's season opener in late October, although they said it might not be open for the first week or two of the season. If that's the case, ticket prices for this season will be pro-rated, Taylor said.
After the renovation, there will still be 64 suites in the 18,165-seat venue. Pacers President Rick Fuson said the overhaul does not mean the demand for suites is softening.
"Right now, our suites are at mid-90 percent capacity," Fuson said. "That means we're selling 100 percent of what we want to sell."
"This [new loft] space reflects what our community is looking for," Taylor said. "People like the social aspect and the freedom and flexibility to move around, yet have seats. This is great for small- and mid-sized companies. It gives them a suite-like option at a price point that is attractive. They also like that it's all-inclusive, so there's a fixed price."
Suites in the fieldhouse cost between $150,000 and $300,000 annually.
Converting suites into this type of space is a trend throughout the NBA, including for arenas for Chicago, Milwaukee, Phoenix and Golden State.
So far, interest in the loge seats, which were designed to give fans a closer-to-the-game and in-arena experience, are generating more interest. But Taylor also expects the theater seats, which were designed for more privacy, to sell well.
The Sells Group Loft is the second major project for high-end ticket buyers the Pacers have announced in as many weeks. On Aug. 4, the club revealed plan to revamp the fieldhouse's floor-level restaurant, along with a seven-figure naming rights deal to go with it.
Please enable JavaScript to view this content.