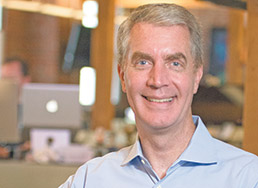 (IBJ photo/Eric Learned)
Angie's List
Chief Technology Officer
Major company achievements during tenure: As the head of a tech department of hundreds, Brown has a list of responsibilities that includes everything from software development and data management to making sure the phone system works. In his short time at Angie's List, he has completed the redesign of the company's consumer, professional and internal technical platforms, including dropping the paywall that had been in place for 21 years. "My contributions … were building and coaching the teams to drive these projects forward and ensuring executive leadership provided a supportive environment for the team to accomplish these aggressive goals," Brown said. He and his team took a project that had been stalled for two years and completed it in eight months. "We successfully dropped the paywall in 10 weeks. Completing both of these technical projects with high quality and on aggressive timelines was critical in advancing our profitable growth plans that we rolled out earlier this year."
Recent tech problem solved: After the redesign of the platform was complete, Brown's team had to migrate 20 years of data and conduct a live migration of customers to the new platform. "We broke the migration up into phases over a six-month period starting with small batches to validate the robustness of our process." The project was completed two months ahead of schedule.
Challenge faced or achievement that only tech people would understand: "Dropping the paywall was a challenging technology problem that involved IAAS/PAAS and web software changes across our hybrid cloud stacks. The changes included front- and back-end software changes across multiple services, cloud infrastructure improvements and changes, implementation of new cloud IAAS/PAAS configurations and capacity, implementation of new hardware and configurations at our colocation facilities, upgrades to existing third-party hardware and software, expansion of vendor services to support our capacity needs, and implementation of new cloud vendor services."
Recruiting challenges: Angie's List, historically, has not thought of itself as an IT company. "That's one of the things I wanted to focus on when I came in," Brown said. "Tech was at the heart of what we did." That re-emphasis, he said, has made recruiting a lot easier. As for sorting through candidates: "We are very fast-paced, but we are built to be able to change direction quickly if needed," he said. "[Is the candidate] someone who embraces change as a given? That's the deal breaker. Languages come and go. When you learn one, you can pretty much learn any of them. But how well do you solve problems?"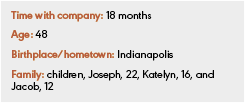 First computer: A Commodore 64. "My junior high had one computer that you were allowed to play a math game on if you did well in class," Brown recalled. "By the time I was a senior in high school, we had classrooms full of computers and they were teaching BASIC programming classes—which I both greatly enjoyed and found easy to do."
Education: bachelor's in mechanical engineering from Purdue University
The road to here: During college, Brown worked with a defense contractor with the Naval Air Warfare Center. A co-worker co-founded a startup and offered Brown a job as a software developer. "I dove in and got a lot of on-the-job training," he said, which paid off as he rose to director of product development over 11 years. He left the company, Double-Take Software, to join ChaCha as engineering program manager, then transitioned into a director of development role. From there, it was stints at Experian (formerly Baker Hill), ExactTarget and Excelerate, where he served as vice president. He joined Angie's List in January 2015 as the senior vice president of technology and was promoted in December 2015 to the CTO position.
Mentor/inspiration: Scott McCorkle, at ExactTarget, taught Brown to have a relentless focus on the customer. He also emphasized the importance of the user experience in the success of a product.
Go-to websites: TechCrunch, Techmeme, Mashable, Wired and Flipboard. "I don't have time to leisurely stroll the web," he said. "These are sites where I know I can get quick synopses and dive in if I want to know more."
Favorite gadget: My iPhone. "The amazing amount of computer power that we carry around every day and the instant access to the collective knowledge of all mankind still awes me."
My job would be easier if … "I never had to worry about actual vs. planned spend."•
Check out more CTO honorees..
Please enable JavaScript to view this content.