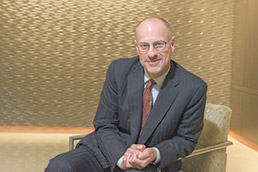 (IBJ photo/Eric Learned)
Kite Realty Group
Senior Vice President of Information Technology
Major company achievements during tenure: Kite has embarked on improving its ability to support team members who are not based in Indianapolis, and the IT organization is playing a key role by rolling out new technologies, improving infrastructure and visiting remote offices to better understand their challenges and frustrations. "I continue to drive the core tenant that IT must be a business partner to understand what technologies are needed to help drive business forward." 
Recent tech problem solved: Getting all remote offices on the same network framework and hardware, a massive undertaking since this meant rebuilding the network while supporting the overall business.
Challenge faced or achievement that only tech people would understand: "Leveraging Salesforce.com and its Wave product to integrate with our accounting system using API and ETL technologies. Since Wave is relatively new, we have had to overcome challenges with their JSON capabilities to meet our business needs."
Real estate tech: "We can streamline a lot of things now, which can shorten the timeline to get a tenant in quicker to start collecting rent. We can also enable Wi-Fi in centers so that we can collect data that might be relevant to our tenants. We can better maintain tenants when leases come up. An agent on a site with a prospective tenant can pull up availability for spaces within a certain radius. That is huge."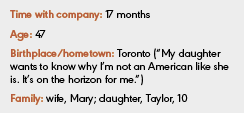 First computer: A Panasonic laptop. "It had an 8 MB hard drive, and was basically a glorified typewriter." Classmates would ask Joynt to transcribe their notes and, "Needless to say, my WPM improved dramatically, and I quickly became known in the dorms for this skill."
The road to here: Joynt, who has a bachelor's degree from the University of Waterloo in Ontario, logged 250,000 miles a year as a tech road warrior consultant focusing on CRM implementations. He settled into running sales and marketing IT for the consumer division of Cisco, then moved to Indianapolis to work at ExactTarget, where he was responsible for internal systems. At Interactive Intelligence, he implemented Workday, consolidated payroll providers, integrated Salesforce.com with the Microsoft AX platform, and delivered a new Microsoft AX platform. Once the new Microsoft AX platform was launched, he assumed his current role with Kite.
Mentor/inspiration: Timothy Good, retired senior vice president of IT at Cisco, who "encouraged me to learn about other areas of the business by taking on projects that were not in my primary area of responsibility." At one point, Good asked Joynt to redesign and deliver the consumer brand's website globally, in five languages and with complete e-commerce capability … and gave him five months to get it done.
Go-to websites: Techpoint.org, Recode.net, Globeandmail.com (for a Canadian perspective)
Favorite gadget: "My Samsung Galaxy S7 edge … can't live without it."
My job would be easier if … "there were more than 24 hours in the day."
Check out more CTO honorees..
Please enable JavaScript to view this content.