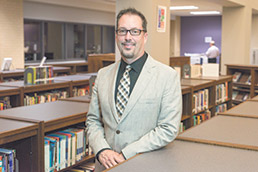 (IBJ photo/Eric Learned)
Metropolitan School District of Wayne Township
Chief Technology Officer
Major school district achievements during tenure: Graduation rates increased from 65 percent in 2006 to 94 percent in 2015 in Wayne Township. Credit, in part, goes to blended- and online-learning options. In the classroom, Just and his team upgraded technology at all schools and incorporated new infrastructure and classroom technology to facilitate learning.
Recent tech problem solved: "The Holy Grail, to some degree, in education technology is to be able to pull together all of your digital resources into one place for students and teachers," Just said. That's what he and his team are attempting with a learning management platform—a centralized location for all digital learning activities, districtwide curriculum maps, and integrated access to digital content.
Challenge faced or achievement that only tech people would understand: "Implementation of an SSO with the option of multi-factor authentication bringing together our disparate on-premise and cloud-based software for our users."
First computer: An Apple IIe acquired from the school where he first taught high school science. "No one was using it, and I had a lot of ideas on how to use it in my biology classroom. I was so excited a few years later to get an Apple IIc so that I could take the thing home, hook it to my living room TV, boot from a disk, and do my work."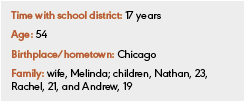 Education: bachelor's in biology from Northern Illinois University; master's in instructional systems technology from Indiana University
The road to here: A swimmer in high school, Just thought he was on a trajectory to work with the U.S. Olympic Committee. The tipping point came when, returning home and visiting his alma mater, his former coach asked him to sub for a class. "He had a hidden agenda," Just said. "He wanted to get me in front of a class to see if I could be successful." But, surprise, Coach didn't tell Just it would be a sex education class. "I was going over things that made my face turn red … but I found out I wasn't bad at it." Hired to teach biology at Lawrence North High School while helping its student athletes, he continued to volunteer with sporting events around the region. The Lawrence job grew to include athletic trainer and technology coordinator and, in 1997, he became technology projects supervisor for MSD of Wayne Township, followed by assistant director of operations. In 2010, he settled in as chief technology officer. 
Unique skills: Just listened to athletes to understand what was needed to get them back in the game. "That's very much the skills I'm using here," he said. "I listen to the issues and, knowing my toolkit, address the problem." And sometimes, he said, "it's about being honest and saying, 'You know, this isn't a technology problem. This is a leadership problem, a resource problem, or a people problem.'"
Go-to websites: Google, K12blueprint.com. Edutopia.org and CoSN.org
Favorite gadget: His Samsung Note.
My job would be easier if … "we had the time and money to train all of our teachers to the level that they each desire to leverage the resources we provide."
Check out more CTO honorees..
Please enable JavaScript to view this content.