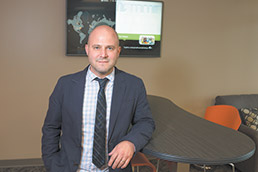 (IBJ photo/Eric Learned)
Aspire Indiana
Senior Director, Information Systems
Major organization achievements during tenure: Speicher led Aspire Indiana, a community mental health center moving into primary care, through several strategically planned disruptions, influencing the executive staff to go beyond innovation and introduce disruption in key areas and at opportune times. "I made the case that, while innovation is good, it is often just doing the same thing yet faster," he said.
Recent tech problem solved: One word: passwords. He instituted company-wide mandatory two-factor authentication on its Google services and reinforced that by using a password manager. "Beyond that, we've been educating staff to 'give up' and let it generate long random passwords for them."
Challenge faced or achievement that only tech people would understand: "We completely disabled IMAP and POP email protocols, yet everything is still accessible on any device. With respect to our documents and files, we've disabled all syncing capabilities and only allow for live online access."
Down with hardware: When it comes to buying software and hardware, Speicher said, "I'm trying to get out of that game entirely." His goal: Be 100 percent cloud-based within three years. "We want to be hardware-agnostic, and buying is the opposite of that goal. When we get to turn off a server, that's a moment of celebration at Aspire."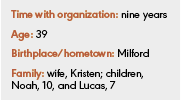 First computer: A monochrome green-screen Apple II. "My father, a school principal, brought one home. Eight years old at the time, I still remember the thrill of typing my name after the PRINT command and semicolon followed by a GOTO 100 to make my name continuously print on the screen."
The road to here: With a Purdue degree in computer and electrical engineering technology, Speicher accepted a position at Johnson Controls as a solutions development engineer, where he specialized in data, technology and procedures used to meet FDA requirements. Traveling internationally, he also served as on-site project leader at the Pentagon, helping the government meet post-9/11 software security requirements for its building automation system. In 2007, he accepted a role with Aspire's subsidiary company, Archeon, to revitalize and develop its electronic medical records. He was later promoted to chief system engineer at Archeon.
Mentor/inspiration: Raymond Benton III, his first boss after college. "He taught me how to manage risk, challenge norms, and relentlessly pursue solutions. Learning from Ray, I went from 'not knowing how' to 'figuring out a way' and penned my mantra … F.S.O. Figure Stuff Out."
Go-to websites: Steve Gibson's Security Now podcast, stratechery.com and cio.com.
Favorite gadget: "The device that changed everything: the iPhone."
My job would be easier if … "all of my work software and services were accessible from my smartphone."
Check out more CTO honorees..
Please enable JavaScript to view this content.