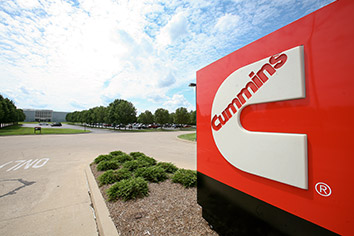 Columbus-based Cummins Inc. will receive $20 million in federal grant funding as part of a national initiative to develop more fuel-efficient vehicles.
The U.S. Department of Energy initiative, called SuperTruck II, aims to more than double the freight efficiency of Class 8 trucks, commonly known as 18-wheelers.
Cummins is one of four manufacturers that will each receive a $20 million federal grant, to be matched dollar-for-dollar by each recipient.
For its part, Cummins will design and develop a new, more efficient engine and advanced drivetrain and vehicle technologies.
The other SuperTruck II recipients include Daimler Trucks North America LLC in Portland, Oregon; Navistar in Lisle, Illinois; and Volvo Technology of America LLC in Greensboro, North Carolina.
SuperTruck II is a follow-up to SuperTruck, which launched in 2010. The U.S. Department of Energy says SuperTruck activities have led to more than 20 fuel-saving technologies entering the commercial market.
Cummins was also a participant in SuperTruck.
 
Please enable JavaScript to view this content.