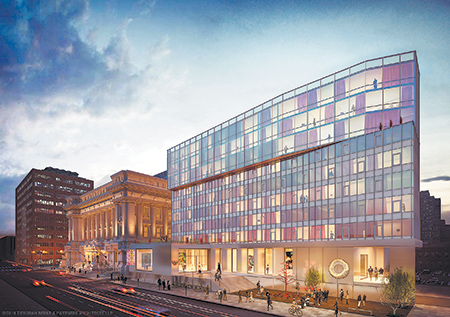 Construction of a much-anticipated 21c museum and hotel slated to be built as part of a $55 million redevelopment of Old City Hall is not likely to start on time after the owner missed a deadline to secure financing.
Louisville-based 21c Museum Hotels LLC and the city in February 2015 announced the project, which would add a modern 150-room hotel to the historic downtown building at the northwest corner of East Ohio and North Alabama streets.
A project agreement signed by the two on Dec. 30 shows the hotel owner needed to close on financing before June 30 to begin construction by March 15 of next year and finish by July 31, 2018, according to terms of the deal.
That didn't happen.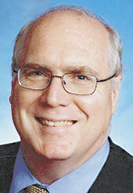 Eble
A 21c spokeswoman attributed the delay to the complexities of the project.
"Historic preservation projects involving old buildings and new construction are challenging," Stephanie Greene told IBJ. "That financing due-diligence process can take time."
Greene did not say when financing could be secured or when the project might get under way. But officials from 21c and the city plan to meet about the timeline soon.
The proposal calls for Old City Hall to house the hotel's lobby and a contemporary art museum with free admission. The hotel would be built on the surface lot to the north of the historic building.
Plans include guest suites with private rooftop terraces, art-filled meeting and event spaces, and "a unique chef-driven food and beverage concept showcasing local and regional farmers and producers."
The city's agreement to provide a $9.1 million loan to 21c as part of the overall financing package was finalized just one day before Republican Mayor Greg Ballard left office.
Democratic Mayor Joe Hogsett's new administration is aware of 21c's situation and expects to meet with company executives in the next few weeks to work on a new timeline for closing, said the mayor's spokeswoman, Taylor Schaffer.
"We're really excited to talk with them and work with them," she said.
21c, however, is behind schedule on another project, too. After a two-year delay, the company is expected to start soon on a $47.5 million project to turn the historic Hotel Savoy building in downtown Kansas City into a 120-room hotel, the Kansas City Business Journal reports.
21c and a Kansas City business partner closed on the purchase in December 2014 and had hoped construction would begin by January 2016.
In Indianapolis, the 21c museum would serve as a pillar for the emerging Market East district, where Cummins Inc. is building a distribution headquarters and Flaherty & Collins Properties a $121 million, 28-story luxury apartment tower.
Construction of the museum hinges on a mix of financing, including the $9.1 million loan from the city and an $11.3 million federal loan through the U.S. Department of Housing and Urban Development.
21c plans to finance another $29 million through equity and debt. Sources would include federal historic tax credits, the company said upon the project's announcement.
The city would contribute $2 million from tax-increment financing funds, which would be paid back, to help arrange for private financing for the $9.1 million loan.
Mark Eble, a managing director of CBRE Hotels, said hotels are difficult to finance in general, let alone one that involves the preservation of a historic building like Old City Hall.
"An office building has commitments from tenants," he said. "Hotels don't have leases [with tenants]; they're only as good as the rooms they sell tonight."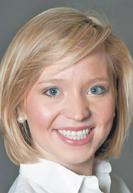 Schaffer
Old City Hall opened in 1910 and housed city offices until the arrival of the City-County Building in 1962. Then, the Indiana State Museum introduced two generations of school children to its gravitational pendulum, which swung from the 85-foot open rotunda. In 2002, the museum moved to White River State Park. The building then housed the interim Central Library until 2007.
The state since has handed the city ownership of the building and, more recently, the adjacent parking lot as part of a larger land swap. In return, the city handed the state a tract of land along the Central Canal.
21c operates hotel-museums in Cincinnati; Louisville and Lexington, Kentucky; Bentonville, Arkansas; and Durham, North Carolina. Its latest addition, in Oklahoma City, opened in June.
The owners of 21c—husband and wife duo Laura Lee Brown and Steve Wilson—own 2,000-plus pieces of art, which rotate through their hotels. 21c also borrows pieces for display.
The designer of the Indianapolis project is New York-based Deborah Berke Partners, which is also the architect for the nearby Cummins building.•
Please enable JavaScript to view this content.