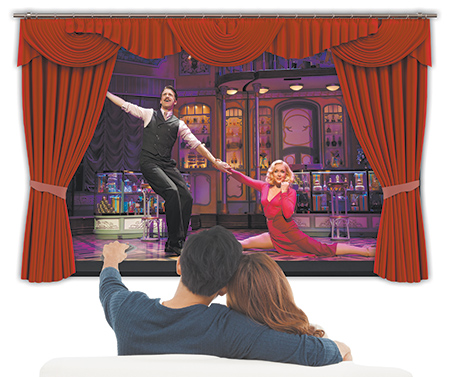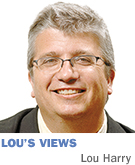 When the fledgling subscription site Broadwayhd.com broadcast "She Loves Me" live from Broadway earlier this summer, it provided a chance to see the award-winning musical at a fraction of what you'd pay to see it in New York (not even factoring in the plane ticket and hotel).
The charming production also was a clear reminder that seeing plays on the home screen can be more satisfying than watching such made-for-TV one-nighters as the much-mocked "The Sound of Music" or the train wreck "Peter Pan" on NBC.
After "She Loves Me," I found myself craving more shot-from-the-stage productions—shows with the complete script intact and no major effort made to hide the artifice of theater.
In search of such fare, I opted in to BroadwayHD for a month (which runs $14.95, a bargain compared to the $7.99 per-show price). I also did some searching on other web-based channels to see what they had to offer.
Here's what I found:
BroadwayHD doesn't have much that can't be found elsewhere—but it's nice to have so much in one place. It's got the outstanding 2015 London production of "Gypsy" starring Imelda Staunton, the "Billy Elliot" that aired on PBS, the Kevin Kline/Jennifer Garner "Cyrano de Bergerac" and the production of "Memphis" that was presented in movie theaters. There are also plenty of familiar concerts, including the Patti LuPone/George Hearn "Sweeney Todd" and the "Les Miserables" 25th anniversary event.
More in line with what I was searching for, BroadwayHD also has the 2013 Orlando Bloom/Condola Rashad revival of "Romeo and Juliet," but so do some of the other outlets I'll get to shortly. This isn't a great version of the familiar story, but even a fair production of a great play is better than a lot of what else is on TV.
The surprise for me was Signature Theatre's production of "Incident at Vichy," Arthur Miller's 1964 play about a group of detainees in Nazi-occupied France. If the 2015 revival hadn't been recorded, it's unlikely I'd ever have had a chance to see the play, especially with such a terrific cast. (The only actor likely to be recognized is Richard Thomas, a theater vet best known from TV's "The Waltons.")
If BroadwayHD could add a half-dozen new plays such as this every month—perhaps including the off-Broadway shows recorded for the Theater Close-Up series on New York's WNET (alas, now available only to those within the station's viewing area)—I'd likely buy in more often. Still, if you enjoy theater, it's worth at least a one-month visit.
It's certainly better than the thin selection you'll find under the Theater Arts heading on Netflix. Here, "The Radio City Music Hall Christmas Spectacular" and the Broadway "Shrek: The Musical" are the exceptions to more faith-based productions, such as "Will a Man Rob God?" and "Love the One You're With."
Hulu's Arts & Culture section also houses the aforementioned "Romeo and Juliet" but not much else. (I could get lost in Hulu's Criterion section, but that's another column.) The selection at Amazon Prime is equally thin. And while I wish there were more archival shows available, for the time being you can find the James Earl Jones/Angela Lansbury "Driving Miss Daisy" on PBS' website, in its Great Performances series. Bummer that there's no archive of "Live at Lincoln Center" shows, but you can still catch Tony Shalhoub and Andrea Martin in Moss Hart's "Act One."
Perhaps the best collection online comes from Digitaltheatre.com. It's got a handful of musicals (including the outdoor London production of "Into the Woods"), a rich collection of Globe Theatre Shakespeares and American classics such as "Long Day's Journey Into Night" and "The Crucible." Alas, these are all pay-as-you-go, without a subscription option. The quality here is high, but those $5.99 buys can add up.
The biggest surprise in my search came from HooplaDigital, a website that offers free access just by plugging in your library card.
In addition to documentaries about indefatigable actress Carol Channing, the Shaw Festival, the rise and fall of theatrical producer Garth Drabinsky, and the Meryl-Streep-starring Public Theatre production of "Mother Courage and Her Children," I found a joyful pop-rock-infused "Twelfth Night" taped from the Stratford Festival stage and starring Brian Dennehy. Christopher Plummer's "The Tempest" is also here, along with his "Caesar and Cleopatra." (More Stratford productions can be found on iTunes, Amazon.com and Google Play on a pay-per-show basis).
HooplaDigital also features the recent Ian-McKellen-starring version of "The Dresser," Leonard Nimoy in "Vincent" and enough Cirque du Soleil shows to fill a big top.
Of course, there's always YouTube, where, among the shot-from-the-seat, hide-the-camera-from-the-ushers bootlegs, I've found full recordings of Stephen Sondheim's "Pacific Overtures" and the London Donmar Warehouse production of "Cabaret" (with a fearless performance by Jane Horrocks as Sally Bowles). The downside here is that, in search of the original stage production of "Hedwig and the Angry Inch" (which is available), you might have to sort through lots of amateur productions and short clips to find the real thing.
I'm sure there's more theater streaming out there. And I've only just begun to tap the material available through Indy's libraries. Let me know if you find anything I've missed—or were able to mine more from any of the above sites. Happy theater hunting.•
__________
This column appears weekly. Send information on upcoming arts and entertainment events to [email protected]
Please enable JavaScript to view this content.