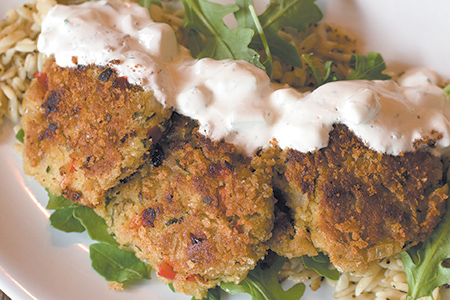 Dorothy Gale said, "There's no place like home." The Dalai Lama said, "Home is where you feel at home and are treated well." And I say there's something about a homey, neighborhood restaurant that can't be re-created in a corporate boardroom.
And so, when an east-side friend who is leaving town said he'll miss one of his favorite restaurants, The Legend Classic Irvington Cafe (5614 E. Washington St., 536-2028), I decided to fill that gap in my Indy restaurant experience with a visit. I'd long been aware of the Irvington spot, but somehow hadn't dined there. The closest I came was Penn & Palate, the Herron-Morton neighborhood effort by the same owners that recently closed after just over a year.
Casual without being sloppy and offering comfort food that doesn't feel complacent, The Legend benefits from a covered, lattice-enclosed patio that allows for outdoor dining without the annoyance of pedestrians staring at your plates as they walk by. There's also dining inside, of course, where a whiff of the fresh-baked cookies might encourage you to linger over dessert.
But I'm getting ahead of myself.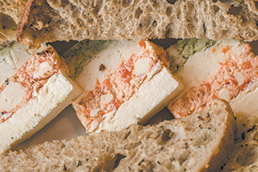 The Legend's Feta Cheese Torta. (IBJ photo/Eric Learned)
Our meal started with a cup of The Legend's signature Tomato Basil Soup ($3) and the Feta Cheese Torta ($7), a partnership I highly recommend. Yes, Tomato Basil Soup seems to be a default setting for some places, but few find the balance of depth and subtlety that the kitchen does here. And the Torta—with a whipped combo of feta, cream cheese and butter spread on fresh bread—had plenty of the latter available for dipping.
A neighborhood restaurant, by definition, is dependent on repeat business from locals. And a big plus for The Legend is that you can splurge on a Beef Tenderloin (still reasonable at $25) or enjoy the more wallet-conscious Dad's Crunchy Chicken ($10). We opted for the latter, which demonstrated the care taken with even such "safe" dining choices. The crunch of the bread-crumb-coated bird didn't dominate the boneless breast and the mashed-potato bed it was parked on (you get two sides) allowed for a satisfying, forkable mix. In addition to such staples, there are also seasonal additions such as the Zucchini Cakes ($13), dressed with just enough cucumber-flecked mint sauce.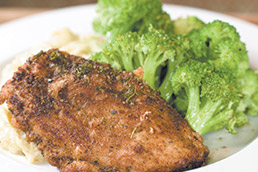 Dad's Crunchy Chicken. (IBJ photo/Eric Learned)
Now, about those cookies.
There's something delightfully silly about the fact that you can order a single made-from-scratch cookie for $1 while two can be had for $1.75. Is there anyone out there who wouldn't pony up $2 for two cookies, but would buy two if they could save a quarter?
Of course, you could just go for the Graham Central Ice Cream ($2.50 per generous scoop) and take a few cookies to go.•
—Lou Harry
Please enable JavaScript to view this content.