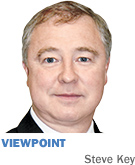 Technology that makes a vast amount of public records available with a few keystrokes can also make monitoring government actions more difficult for Hoosiers.
Email is an example of this dichotomy.
The General Assembly recognized in the 1990s that email should be included in the scope of the state's Access to Public Records Act. Lawmakers ruled that emails created by public officials and employees on taxpayer-funded email accounts should be available for inspection and copying by the public.
But this effort at government transparency can be thwarted, either innocently or intentionally, when emails used to conduct public business are sent via private accounts.
For example, when an Indiana public school district needed to redraw elementary school boundary lines to balance student distribution, board members knew it would be a sensitive issue and wanted parental involvement.
The board created a committee of parents to work with school administrators to draft a recommendation. They intended for this work to be done under the eyes of the community, knowing the committee would be subject to the state's Open Door Law, which mandates meetings be open to the public.
But the parent-run committee determined that, with busy schedules, they could more effectively work through email than face-to-face meetings.
The result?
All committee discussion was done through the parents' email accounts (not subject to public access laws), and no one else in the community was privy to the plan until it was presented to the school board for action.
School board members, who thought they had a transparent plan, were vilified for a process that was closed to most of the public's view until the very end.
While the secrecy in this scenario was accidental, some officials intentionally do government business through private email accounts because they know the public doesn't have the legal right to demand access to those messages.
When officials keep documents outlining motives for local or state government actions secret, Hoosiers are denied information they can use to determine whether those decisions are in their best interest or whether they further interests that don't align with the public's.
State legislators have made it clear they don't want a law that paves the way for citizens knocking at their homes demanding a look at their computers for emails on private accounts. That would be an unfair intrusion.
While I appreciate their concern for a line between the private and public lives of elected officials and government employees, Indiana needs a balance that discourages those charged with serving the public from hiding information in private email accounts.
The Legislature's intent that the public should be able to follow the arguments for or against a project, spending decision or proposed ordinance shouldn't be thwarted on the basis of an email address.
I hope lawmakers will explore legislation that prevents end-runs around the public's right to know what government officials are doing or contemplating.•
__________
Key is executive director and general counsel of the Hoosier State Press Association. Send comments on this column to ibjedit@ibj.com.
Please enable JavaScript to view this content.