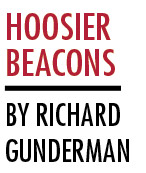 Only three novelists have ever won two Pulitzer prizes: William Faulkner, John Updike and Hoosier Booth Tarkington. Tarkington sold over 5 million novels in a pre-paperback era, achieving a level of popularity in American letters equaled in his own day only by Mark Twain.
Born in Indianapolis in 1869, Newton Booth Tarkington was named after his mother's brother, Newton Booth, who would soon become the governor of California. As a teenager, he attended Shortridge High School and Philips Exeter Academy, a boarding school in New Hampshire.
After high school, Tarkington studied two years at Purdue University, to which he later donated funds for a residence hall. He then transferred to Princeton University. There, "Tark" edited the literary magazine and was voted most popular man in his class.
Tarkington never actually received his bachelor's degree, because he lacked a credit in classics. Later in life, however, he achieved a remarkable distinction, becoming the only alumnus to receive two honorary Princeton degrees, a master's and a doctorate.
Tarkington returned to Indianapolis in 1893 and attempted to support himself as an artist and writer. Not until 1900 and the publication of "The Gentleman from Indiana," however, did his career begin to take off.
In 1902, Tarkington served one term in the Indiana House. His experiences provided the foundation for his book, "In the Arena: Stories of Political Life". In 1914, he published his Penrod collection, a series of comic short stories about an 11-year-old boy, reminiscent of Twain's Tom Sawyer.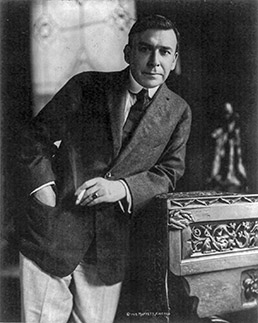 Tarkington, named America's greatest living writer in 1922, won two Pulitzer Prizes. (Photo courtesy of Library of Congress)
In 1918, he published perhaps his most famous novel, "The Magnificent Ambersons," a story set in a thinly veiled version of Indianapolis' Woodruff Place. It is a multi-generational tale about a turn-of-the-century family whose fortunes wane with rapid changes in U.S. society.
In 1942, "The Magnificent Ambersons" was adapted for the screen by Orson Welles, who served as screenwriter, director and producer. It was nominated for four Academy Awards and today is often listed among the greatest films ever made.
The author's second Pulitzer Prize winner, "Alice Adams," was published in 1921. It tells the story of a young woman from modest circumstances who hopes to win the affections of a wealthy man and move up in the world.
Tarkington is usually considered a Midwestern writer. He set many of his stories in a fictionalized version of his native Indiana. By the time he was named America's greatest living writer in 1922, he had captured Hoosier life and culture for millions of readers.
Tarkington was married to Louise Fletcher from 1902 until their divorce in 1911. In 1912, he married Susanah Robinson, who outlived him. Throughout his adult life, he maintained a home in Indianapolis in the 4200 block of North Meridian Street.
Tarkington began losing his eyesight in the 1920s, eventually becoming completely blind. As he aged, he spent more and more time in Kennebunkport, Maine, where he continued to write by dictating to a secretary.
Tarkington died in 1946 and is buried in Crown Hill Cemetery, along with James Whitcomb Riley and Kin Hubbard. His creative legacy lives on locally through the Booth Tarkington Civic Theater at the Center for the Performing Arts in Carmel.
Some of the best lines from Tarkington's work include: "Gossip is never fatal until it is denied," "Whatever does not pretend at all is style enough," and, "We keep looking ahead to things as if they'd finish something, but when we get to them they don't finish anything. They're just part of going on."•
__________
Hoosier Beacons pays tribute to Indiana's bicentennial by telling the stories of famous Hoosiers. It appears every other week. Gunderman is chancellor's professor at Indiana University.
Please enable JavaScript to view this content.