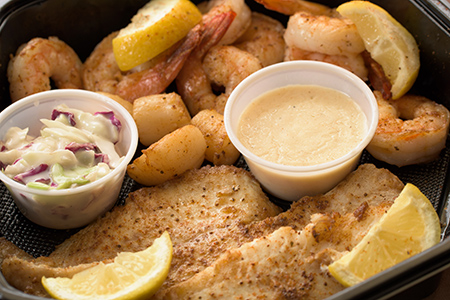 Rest assured, your beer goggles aren't deceiving you: The R isn't missing from the old Greek's Pizzeria sign. A new eatery with a similar name has taken over the much-turned-over Broad Ripple corner at Guilford Avenue and Westfield Boulevard.
But the name isn't the only thing different. Instead of being in the dough/sauce/cheese business, the new owners are offering a different mix at Geeks Seafood, Salads, and Subs (6336 Guilford Ave., 493-1884).
Perhaps there was some moment in the rowdy history of Broad Ripple when an iconoclastic twenty-something reveler stated to his friends—in an inappropriately loud voice, of course—"Hey, you know what? I could really use some scallops."
OK, perhaps not. But why shouldn't Broad Ripple Village have a greater variety of grab-and-go offerings? And why not seafood?
The spot is still saddled with the awkward-shaped space that was accommodating for an ice cream shop—another former inhabitant—but not ideal for a sit-down. The choice is either sitting side by side along the window or taking one of the few tables where you are in close proximity to the counter. Thankfully, there's patio seating around the rim. Decor still feels unfinished, without any of the expected embracing of the geek name.
As to the fare, this is one of those places where everything was fine, our plates were clean, and nothing rose to the level of, "You gotta go." The Crab Cake ($2.95) came out of the fryer a bit on the dark side, and the Calamari Rings ($5.95) were plentiful but a notch bland. For sampling and sharing, the Grilled Mix ($11.25) is the way to go, with a slab of grilled tilapia, eight grilled shrimp, and four scallops served with Alfredo sauce rather than the expected cocktail or tartar sauce for dipping.
Another option if you like your fish fried is a Combo ($11.95) where you can pick two from shrimp, scallops, oysters and fish and get a side of fries, a dollop of coleslaw and a pair of hush puppies. I was glad the kitchen didn't overwhelm the fish with spices or go overboard on breading.
On the sandwich side, the Philly Chicken ($7.25) was on par with other restaurant versions of the East Coast staple, while the Seafood Sub ($7.60) carried enough small shrimp so the seafood didn't get lost in the veggies. Gyros and burgers are also available, and it's nice to see a Veggie Sub ($3.95) that isn't overpriced.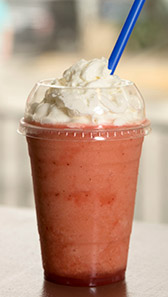 Smoothies are one way to wash down a meal at Geeks in Broad Ripple. (IBJ photo/Eric Learned)
The Salad option ($6.95) includes the basics of romaine lettuce, cucumbers, onion, tomatoes and banana peppers, as well as a choice of meat—with tuna and grilled shrimp included in that definition. Tack on 49 cents for most additions, including walnuts and sliced apples. And, on the drink front, it's nice to have Smoothies ($4) available as an option over the now-ubiquitous sodas-in-dozens-of-flavors dispenser—although that's an option here, too.
As of this writing, Geeks is open until 4 a.m. on weekends.•
—Lou Harry
Please enable JavaScript to view this content.