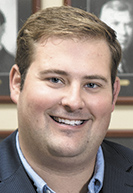 Gentry
Lebanon Mayor Matt Gentry wants his Boone County city to become a hub for food processing and manufacturing companies and sees its business park as the perfect bait to get them there.
Conveniently located just west of Interstate 65 between State Road 32 and State Road 39, the 1,250-acre Lebanon Business Park is already home to several large food manufacturers, including Skjodt-Barrett Foods Inc., Maplehurst Bakeries Inc. and Purity Wholesale Grocers Inc. But Gentry is looking for more.
"We have a very successful business park. Lebanon is blessed with its location," Gentry said. "We've already been kind of a great first look for logistics companies, so we're trying to attract the top of manufacturing space."
With a just-announced $90.5 million investment by a major salad dressing and sauce producer, the city is already off to a good start.
Massachusetts-based Ken's Foods Inc. said Aug. 22 that it would construct a 320,000-square-foot facility on 40 acres in the business park and hire 150 employees for the plant, which will be the company's first in the Midwest.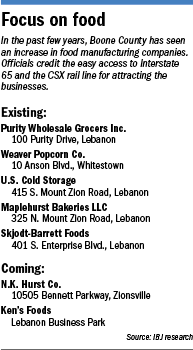 Local officials say the city's location along I-65, positioned between Indianapolis and Chicago, and the business park's direct access to a rail line are key attractions.
In 2010, Indianapolis-based Duke Realty Corp. and the city invested a total of $4 million to bring rail access into the development, and Jacksonville, Florida-based CSX this month designated the area as a CSX Select Site.
The designation signals to site selectors that the park has development-ready properties along the CSX rail network and land issues have already been addressed, meaning the construction timeline should be shortened.
"Rail is only in so many places," said Mark Hosfeld, vice president of leasing and development for Duke Realty. "This new CSX rail designation that we have, it's very unique. Not many places have it."
And development officials have already credited the special designation as the primary reason for attracting Ken's Foods.
Hosfeld described the announcement as "a huge win for Lebanon and the area."
"It's huge to kick off the CSX designation because we just publicly announced that less than a month ago," Hosfeld said.
The business park wasn't specifically intended for food manufacturers or processors, but a few early investments have spurred more of the same.
"The vision has always been distribution and fulfillment centers on a regional and national basis," Hosfeld said. "But there's always been sort of a food presence."
Purity Wholesale Grocers was among the first to move in when it opened a 500,000-square-foot facility in 1996—only two years after Duke Realty established the development.
Since then, the Boca Raton, Florida-based grocery and health and beauty products wholesale distributor has expanded twice.
In 2008, U.S. Cold Storage joined the development with a 300,000-square-foot refrigerated warehouse and logistics-services facility for the perishable food industry.
That addition, along with the existing rail line, helped attract Skjodt-Barrett Foods and Maplehurst Bakeries, according to Hosfeld.
Skjodt-Barrett Foods, a wholesale distributor of packaged foods, opened its 214,000-square-foot Lebanon facility in 2011 and spent nearly $44 million in 2014 to install new equipment and hire up to 97 more employees. At the time, the company had 325 employees in Lebanon.
Maplehurst, a subsidiary of Toronto-based Weston Foods, announced two years ago that it would spend close to $78 million to renovate and equip a 180,000-square-foot facility and create 219 jobs by 2017.
According to data shared by the Boone County Economic Development Corp. from Info USA, food manufacturing and accommodations and food services accounted for close to 17 percent of all business conducted within a mile of the Lebanon Business Park.
"They seem to have clustered together," Hosfeld said.
While Lebanon is trying to keep the food manufacturers within the city limits, it's not the only area in Boone County—or along the I-65 corridor—attracting such companies.
In 2014, Omaha, Nebraska-based ConAgra Foods Inc. moved to Frankfort, taking 150 jobs away from its operation in Lebanon. The Frankfort Industrial Park is also home to Frito-Lay, Land O'Lakes Purina Feed LLC and Archer Daniels Midland Co.
In 2014, Weaver Popcorn Co. moved its headquarters from Noblesville to AllPoints at Anson, another Duke Realty development, in Whitestown.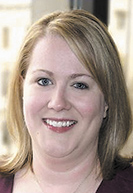 Whitehead
And earlier this year, Universal Transparent Bag Co. Inc., a business related to N.K. Hurst, announced plans to spend $5.8 million to construct a 67,000-square-foot building in Zionsville. The dry-bean and dry-bean-soup packaging company has been a staple in downtown Indianapolis for nearly 70 years.
Molly Whitehead, executive director of Boone County Economic Development Corp., said officials recently completed an analysis to determine what kinds of companies would complement existing industries and what industries are fast-growing or could bring high-paying jobs. They determined food manufacturing will be a sector to target.
Boone County is also actively seeking companies related to agribusiness, given the county's agricultural heritage and close proximity to West Lafayette's Purdue University, which is known for its agricultural focus.
"We hope to see more companies like that in the future," Whitehead said.•
Please enable JavaScript to view this content.