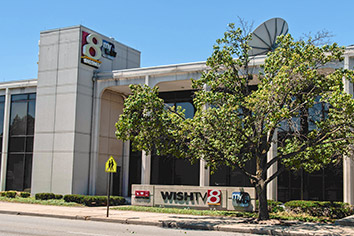 Les Vann is leaving WISH-TV Channel 8 after two years as general manager during a tumultuous time for the local station.
Vann's exit comes as WISH's parent, Media General is being acquired by Nexstar Broadcasting Group. Vann, who joined the station in August 2014 just as it was preparing to lose its CBS affiliation, said he isn't being forced out.

Les Vann
"I'm sitting at my desk working on budgets," he told online news site TVNewsCheck this week. He said he would be at WISH "for another couple of weeks."
Vann told TVNewsCheck he was leaving "for another position with another company in another market."
Industry sources said Nexstar would have almost certainly sought to install their own hand-picked general manager at WISH in the coming months.
Vann did not immediately return calls from IBJ on Friday morning for comment, but sent a written comment via email:
"I am extremely proud of the work during the last two years at WISH-TV, by a group of great broadcasters," he said. "I've told the staff I have accepted a new opportunity. My wife and I have loved Indianapolis."
For his efforts leading WISH through the dramatic change from a CBS affiliate to an independent station, Vann in January was named General Manager of the Year (for U.S. television markets No. 26-No. 50) by Broadcasting & Cable, a national trade publication chronicling the business of the television industry.
Due to the affiliation change, Vann increased local news coverage time in 2015 by 42 percent, to 64.5 hours a week.
"It was an obvious choice. We didn't have a lot of time. We only had four months," Vann told Broadcasting & Cable in January. "The question was how to structure it; how to put it together; how to market it; and how to present it to everybody. We spent a lot of time last fall getting ready to do that."
Vann, who replaced long-time WISH general manager Jeff White, filled the CBS programming gap—and steadied the station's cash flow—by bringing in CW syndicated content and a bevy of sports programming including 57 Chicago Cubs and White Sox baseball games, 19 Chicago Blackhawks hockey games, Indiana Fever basketball games, Atlantic Coast Conference football and basketball games, Butler University basketball games and horse racing.
Despite's Vann's efforts to increase news coverage, however, WISH often sat third in local television news rankings behind WTHR-TV Channel 13 and WXIN-TV Channel 59.
Vann's tenure was also marked by the departure of a string of high-profile on-air talent including Eric Halvorson, Julie Patterson, Karen Hensel and Steve Bray.
In May, WISH News Director Elbert Tucker left the station after one year for the same job at a station in Nashville, Tennessee, which is also owned by Media General.
Please enable JavaScript to view this content.