Pittsburgh-based PNC Financial Services Inc. opened an in-store bank branch in Carmel on Monday, bucking a trend of branch closures and especially ones that sit in grocery stores.
Located in Market District Supermarket at 11505 N. Illinois St., the mini-branch is an example of PNC's "universal branch format," according to the bank. There are no tellers, but the branch features a new-look ATM and seven-days-a-week service.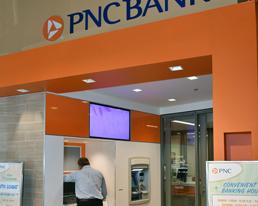 PNC's Carmel Market District Express Branch opened Monday with electronic tellers for typical transactions and humans for more complicated services. (Photo courtesy Banayote Photo)
It's the first new branch in central Indiana for the bank in 2016, officials said, and the 166th in-store location in the United States.
"This is a good story for this market—especially with the in-store format, which customers seem to really love," said Karen Larrimer, chief customer officer and head of retail banking.
The new branch is called the "PNC Carmel Market District Express Branch." It features an ATM that allows cash transactions down to the penny, customer tablets for other routine banking tasks, and "financial consultants" available to talk about bank products and services.
All of PNC's in-store branches going forward will follow the universal branch format, according to a company spokesperson. About one-third of its central Indiana branches—in-store and free-standing—will operate under the universal model by 2017. The bank currently has about 70 central Indiana locations.
Other banks in the area have rolled out versions of their branches of the future in recent years, which also feature more technology and fewer tellers. According to Javelin Strategy & Research, it cost banks an average of $4.25 to complete a consumer banking transaction in 2015, compared to about $1.25 for an ATM transaction.
The shift away from tellers stems from customer banking trends at PNC, including the rapidly increasing use of non-teller channels. Deposit transactions via ATM and mobile channels account for almost 52 percent of total deposit transactions, the bank said, compared with 40 percent just a year ago.
Over the past several years, some banks operating in Indiana have been closing their in-store branches—effectively bite-size versions of their traditional stand-alone branches.
Among other factors, these branches employed tellers amid industry declines in teller transactions, and the branches weren't big loan generators.
Larrimer said that, despite an increase in mobile and ATM transactions, some customers desire face-to-face help with loans and investments. The new branch features financial consultants and two private offices, giving the bank a physical presence for such interactions—but with a less-expensive footprint than a stand-alone branch.
"The square footage that we're using is much smaller," Larrimer said about the Market District branch, which occupies 525 square feet. "But everything you need will be there, and it's actually a much more economical model for us."
Larrimer said the idea is to make the branch a destination, not an afterthought.
"It isn't just stopping by while you're shopping, but you intentionally went there and you accomplished more than just your banking on that one visit."
Please enable JavaScript to view this content.