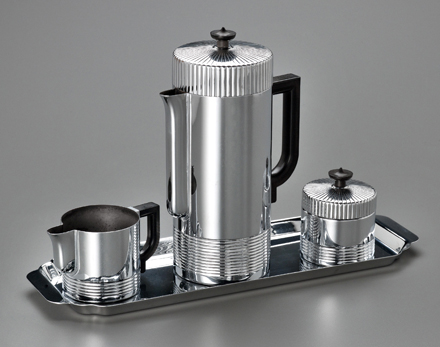 It's not unusual to see teapots on display in museums, celebrated for their beauty and craftsmanship. Often they're centuries-old artifacts, with fussy floral designs or painted scenes on porcelain or china, or silver teapots with intricate engravings or metalwork.
But what about coffeepots? They tend to be more utilitarian than decorative, the workhorses of our morning routines rather than the centerpieces of an afternoon ceremony.
And unlike a pretty teapot that steeps and serves tea after a stovetop kettle has done the actual work of boiling the water, a coffeepot is more likely to do double duty, used for both making and serving coffee.
So it's a nice surprise—especially for those caught up in the current wave of coffee-mania—to find coffeepots in a museum. The contemporary design wing of the Indianapolis Museum of Art has several in its collection.
One of the most striking is a 1980s three-piece steel-and-copper espresso maker by Aldo Rossi called "La Conica." The museum's notes compare its sleek design to a building made of "simple geometric shapes (a sphere, a cone, and a cylinder). … The design plays with the idea of architectural form, reducing it to its simplest elements."
Rossi's own comments about La Conica recall a youthful interest in coffeepot design: "As a child, I spent hours drawing coffee pots … these fantastic geometric forms represented my idea of beauty. I saw in them domes, towers, minarets, and other buildings."
"It's fascinating to think of how the culture of architecture can be incorporated into the design of a tiny household object," said Shelley Selim, associate curator of design and decorative arts at the Indianapolis museum.
The Rossi design was part of a series commissioned by Alessi, a high-end Italian manufacturer. Another item on display at IMA is a continental coffee service from the 1930s with a tall, sleek cylindrical pot, with vertical lines decorating the top and horizontal lines at the bottom.
Anyone who owns or has seen an ordinary, old-school stovetop espresso maker will be delighted to know that the iconic Bialetti Moka coffee maker, originally designed in the 1930s, is in the permanent collections of several museums, including the Museum of Modern Art in New York. The Moka, as coffee-lovers know, is a marvel of engineering as well as design: It makes coffee by forcing boiling water up from the bottom chamber through the grounds basket into a pot with a pouring spout. The simple aluminum machine with eight sides has three screw-together pieces and a hinged cover with black plastic handle and top knob.
The Indianapolis Museum of Art has a slightly more elegant, less angular version of an espresso maker designed for Alessi by Alessandro Mendini in 2011.
Selim says that contemporary coffeemakers are emblems of their time in the same way that a 17th century silver teapot represents the era of global sea trade that put tea and coffee within everyday reach of European consumers.
"What's really interesting about these designed objects is how they embody material cultural trends from the time they were made," said Selim. "Objects that are contemporary now will have a totally different meaning in a museum … as part of a long historical thread as we move into the future."
Please enable JavaScript to view this content.