In business, one party's problem is often another's opportunity.

That's certainly the case right now in the airline industry, which is weathering a pilot shortage that's hitting regional carriers like Indianapolis-based Republic Airways especially hard. Republic filed for Chapter 11 bankruptcy protection in February, citing its inability to fill cockpits as one source of its troubles.

But the flip side of the shortage is this: It's a good time to be entering the profession.

Regional carriers—traditionally a place young pilots launch their careers—are offering higher pay and benefits to lure candidates. And in Indianapolis and elsewhere, aviation schools say they're working more closely than ever with airlines, creating a direct pipeline from classroom to cockpit.
Mott
"It's a job-seeker's market right now," said John Mott, the interim head of Purdue University's School of Aviation and Transportation Technology. He also serves as director of the school's Advanced Aviation Analytics Institute for Research.

In its 2016 Pilot and Technician Outlook report, aircraft manufacturer Boeing predicts a need for 112,000 new pilots in North America—and 617,000 worldwide—over the next 20 years. The report also predicts a growing need for aircraft mechanics and cabin crew.

"As global economies expand and airlines take delivery of tens of thousands of new commercial jetliners over the next 20 years, there is extraordinary demand for people to fly and maintain these airplanes," the report says.

A University of North Dakota study found aviation-education programs aren't keeping up as more captains reach the mandatory retirement age of 65. It predicts that annual pilot deficits will escalate over the next decade and will total 15,000 by 2026.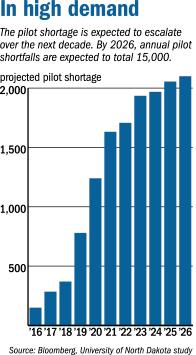 As pilots hired at major carriers 30 years ago reach retirement, those airlines often are hiring away pilots from the regional airlines.

At the same time, federal regulations enacted three years ago have dramatically increased the amount of training required before young aviators can get that first job at a regional airline. As a result of those rules—sparked by a high-profile 2009 Colgan Air crash in which inexperienced pilots made critical mistakes—it's no longer possible for graduates to move straight from aviation school into an airline pilot job.

So the regional airlines are losing pilots to the major carriers, and are scrambling to find qualified hires to replace them.

It's easy to understand why pilots are jumping to the major carriers—they can earn a lot more money.

Last fall, for instance, Republic raised its entry-level copilot pay to $40 per flight hour—an annual wage of around $40,000. A pilot with four years of seniority can earn $80,000, Republic says.

But the mean annual wage for airline pilots, copilots and flight engineers was $136,400 last year, according to the U.S. Bureau of Labor Statistics. That pay includes airlines of all sizes.

The Dallas metro area offers the highest pilot pay, with a mean annual wage of $201,100. The Dallas/Fort Worth International Airport is a hub for American Airlines Group Inc.

"There is a massive shortage of qualified pilots," said Mike Gehrich, director of aviation at Vincennes University's Aviation Technology Center at Indianapolis International Airport.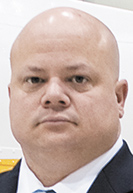 Gehrich
"It started getting tight probably two years ago, and I don't think we've seen the worst of it."

The center, which is affiliated with the university's main campus in Vincennes, offers two-year degrees in both flight and aviation mechanics.

The shortage is so severe, Gehrich said, that the school had to restrict the size of its incoming aviation class this year because it couldn't find enough flight instructors.

Long time coming

Gehrich traces the roots of today's shortage to the 9/11 terrorist attacks, and the economic slowdown that followed. Americans weren't flying as much, airlines furloughed pilots, and aviation as a career lost its luster.

That meant the industry wasn't bringing in enough pilots to replace now-retiring baby boomers.

Meanwhile, Gehrich said, airlines moved toward a regional jet system, farming out shorter flights and smaller markets to regional carriers. This put more planes in the sky, increasing the demand for pilots.

"Airline hiring has always been very cyclical based on the economy," said Mike Wiggins, chairman of the Aeronautical Science Department at Embry-Riddle Aeronautical University in Daytona Beach, Florida.

"There's a huge bubble of pilots coming up to retirement."

Making matters worse were the heightened training rules imposed in 2013 following the investigation into the Colgan Air crash, which killed 50 people.

Copilots who fly for U.S. passenger and cargo airlines now must hold an Airline Transport Pilot certificate, which requires a minimum of 1,500 hours of flight time. Before the regulations popularly known as the "1,500 rule," copilots—also called first officers—needed only 250 hours of flight time, though individual airlines could impose stricter standards.

The 1,500 rule does make exceptions. A pilot coming out of the military can earn an Airline Transport Pilot certificate with 750 flight hours, for instance. Someone with a bachelor's degree in aviation qualifies with 1,000 hours, while someone with an associate's degree qualifies with 1,250 hours.

There are numerous jobs aspiring commercial pilots can work for a year or two to build up their flight time, such as flight instructor, charter pilot or crop duster. But the delay is straining regional carriers that need pilots now.

"We've kind of built this perfect storm, if you will," Gehrich said.

Republic Airways did not respond to requests for interviews on this story. But in a regulatory filing in March, the company said: "As a result of the pilot shortage, the company has been forced to ground operating aircraft and reduce scheduled flying for each of its [airline] partners, which has adversely affected the company's financial position and cash flows from operations."

Delta Air Lines sued Republic over this issue in October 2015. The parties settled the suit this March.

Republic's vice president of human resources, Matt Koscal, said at an IBJ aviation and aerospace breakfast in April that the company is scaling back operations as part of a strategy of "right-sizing our business to what the supply of labor is."

At the same time, Republic is narrowing the gap between what it and major carriers pay. Other regional carriers are doing the same.

Until a year or two ago, $30,000 was considered good pay for a first officer at a regional carrier, said David Jeffries, a commercial pilot and co-owner of Jeff Air Pilot Services in Columbus and Greenwood.

Today, "you can walk into a $40,000-to-$65,000 first-year income," Jeffries said.

Endeavor Air, a subsidiary of Delta, currently advertises a first-year salary of $50,000 for first officers.

Republic's online recruitment information says new hires can earn a salary of $40,000 their first year, with benefits, per-diem pay and bonuses. A captain at Republic with four years of seniority can earn $80,600, the airline says.

Missouri-based Trans States Airlines, which flies for American Airlines Inc. and United Airlines Inc., says its first officers can make nearly $42,000 in their first year, which includes a signing bonus of $7,500.

Partnerships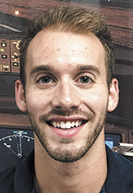 Wood
"The incentives have been getting better, even in the past two years," said Brad Wood of Noblesville, who graduated from Vincennes University's flight program this year.

The 24-year-old is almost done earning his flight instructor certificate, with the long-range goal of building his flight hours and becoming a commercial pilot. He hopes to fly for Republic.

Higher pay is especially welcome for young pilots because the cost of training is not cheap. College aviation programs are more expensive than other fields of study because of the extra fees for flight training.

Wood said his degree from Vincennes cost about $70,000.

Regional carriers also are working more closely with aviation schools, building relationships they hope will lead to future hiring.

Last summer, Purdue signed a pipeline agreement with Republic. The agreement will give Purdue students a chance to work on projects and activities with Republic. Participating students also will be guaranteed a job interview with Republic once they graduate; any job offers are conditional upon the student's completing the 1,500 rule.

Purdue also has agreements with other regional carriers, including CapeAir, Piedmont and Envoy, Mott said.

"We're trying to think outside the box and do things a little differently than we have in the past," he said.

Purdue also is re-establishing its aviation program in Indianapolis, with the first group of students expected to enroll this spring.

The program will be housed at Vincennes University's Indianapolis center. It will be a two-year program designed for Vincennes graduates who want to go on to earn a bachelor's degree.

Previously, Mott said, Purdue had a four-year program in Indianapolis. The university didn't have the resources to keep the program going, he said, and new FAA regulations made Purdue uncertain of what the future held.

But especially with the growth in the airline industry, Mott said, the time was right to come back to Indianapolis.

One problem that hasn't been resolved yet: College aviation programs, a key source of pilots, can produce only so many graduates.

Embry-Riddle is the nation's largest collegiate aviation program, Wiggins said, and it graduates only 150 to 200 students a year.

"If you look at the combined output of all collegiate aviation programs, it's still not going to meet the demand," he said.

Another challenge, Gehrich said, is that college aviation programs tend to have a higher washout rate than other majors do.

Financial considerations cause some students to leave, he said, and medical requirements keep some out of the cockpit. In other cases, students get discouraged when they realize all the work required to become a pilot.

Vincennes is trying to address this by offering more individualized training. It's also reaching out to high school career and technical students, offering the chance to earn up to 18 college credit hours toward an aviation degree.

"Literally, we're trying to capture these students as juniors and seniors in high school to get them into a fast track into the flight program," Gehrich said.•