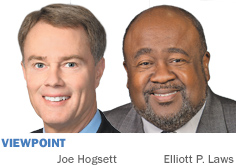 Rarely does a major American city have the type of development opportunity now before the city of Indianapolis. With the help of residents and neighborhood leadership, the City-County Council, business leaders and the market, we intend to take full advantage and achieve an outcome of which all of us will be proud.
The opportunity is 102 acres on the edge of downtown, home of the former General Motors Indianapolis Stamping Plant. The property, owned and managed by RACER Trust since 2011, hugs the western bank of the White River within a historic neighborhood and adjoins White River State Park and the Indianapolis Zoo, quality-of-life gems that attract more than a million visitors each year.
The property today is a blank canvas, and the possibilities are as vast as its expanse. The question is not whether the property will attract a transformative development project, but when and what that will look like.
To that end, the city has begun a broad planning process in which nearby neighbors and other residents, community leaders from the private and public sectors, urban land-use experts and market analysts are being engaged to elicit their views for what this property can—and should—become.
RACER Trust, which was formed by the U.S. Bankruptcy Court to take ownership of certain former GM assets and whose mission takes into account the views of the community for redevelopment and reuse, will use the product of this process to issue a call for offers to development firms with the means and expertise to deliver a project that is, to the greatest practical extent, consistent with this local vision.
Time is of the essence. We hope to complete this planning process by November, so RACER Trust can issue a call for offers and begin to vet prospects over the winter. Our hope and expectation is that a new owner will be selected sometime in 2017.
This community input will help guide RACER Trust in defining what type of redevelopment to look for at the former stamping plant. It will help determine what sorts of infrastructure improvements are necessary and how these improvements will be financed. It will help determine how the property should be zoned and the types of public financing tools that might be appropriate. The community must clearly understand the types of uses that are permissible under current environmental conditions and what would be required, in terms of financial commitment, to lift anticipated restrictions.
By providing clarity on these and other issues, the community will help RACER Trust set expectations and minimize uncertainty for the market, increasing the likelihood that the market will produce a proposal that is commercially successful and enjoys broad community support.
The city and RACER Trust have built a strong working relationship, and share the belief that this property—because of its location, size and quality of place—is uniquely positioned to attract the kind of development that will benefit the community for generations to come. We will continue to work collaboratively to ensure that we capture this opportunity to attract investment and redevelopment that results in long-term benefits for Indianapolis and Marion County.•
__________
Joe Hogsett is mayor of Indianapolis. Elliott P. Laws is managing partner of EPLET LLC, administrative trustee of RACER Trust.
Please enable JavaScript to view this content.