USA Track & Field is on the cusp of signing a multiyear deal with NBC, fulfilling its longtime wish of pulling all its programming onto one network while strengthening its finances.
NBC for the first time will air 16 hours of track and field competition from April to July each of the next three years leading up to the 2016 Olympics, sources said. The deal will be announced next month.
NBC declined to discuss the deal.
While officials for Indianapolis-based USATF declined to reveal financial details, they said the deal is a definite upgrade in their televised programming.
USATF has had a limited number of events scattered around on ESPN, ESPN 2, Universal Sports Network, NBC Sports Network and NBC, making it difficult for fans to find track and field events on TV.
"We think it has the potential to greatly increase the exposure of our sport and athletes," said USATF spokeswoman Jill Geer.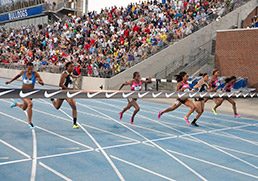 Events such as U.S. National Championships draw 1.5 million TV viewers. Sports marketers think a new deal with NBC can push USA Track & Field event ratings higher.  (Photo courtesy of USA Track & Field)
NBC has been rolling up deals with Olympic sports' sanctioning bodies, having signed contracts in the last two years with U.S. organizations for swimming, gymnastics, figure skating, snowboarding and skiing.
"NBC controls the Olympic TV coverage, and they're trying to showcase the talent that will draw eyeballs to the Olympics," said Indianapolis-based sports marketer David Morton.
The partnership also gives USATF a broader level of exposure, he added.
"Television exposure is what drives marketability," Morton said. "This type of exposure is essential for the growth of these sports."
USATF has been fighting for a better TV deal for more than two decades. In years past, the organization has essentially had to buy TV time and pay for it by selling ads.
"What NBC has shown already is a partner philosophy, rather than a vendor philosophy," Geer said. "It's a philosophy that USATF has never had before in a broadcast partner."
The NBC deal is part of a three-year plan USATF CEO Max Siegel launched when he was hired two years ago.
"Max's plan called for moving from a time buy to a rights-fee deal, and we're in the middle of that," Geer said. "We're not to the point of getting a rights fee yet, but we're moving in that direction."
Morton thinks USA Track and Field has enough stars—such as marathoner Ryan Hall and sprinter Allyson Felix—and big events—including the Nike Prefontaine Classic and Drake Relays—to lure a sizable audience. In recent years, big-time U.S. track meets have drawn nationwide TV audiences of about 1.5 million viewers. Morton said that could go higher with a coordinated effort from NBC and USATF.
The NBC broadcasts, said sources familiar with the deal, are essentially a revenue-sharing pact, where NBC and USATF each get control of part of the advertising inventory and split some of the expenses.
Not only do the NBC broadcasts give USATF an important revenue stream, they also give the sanctioning body a way to offer sponsors additional exposure. Some USATF sponsorship contracts stipulate that a certain level of exposure must be attained, and if the sanctioning body can place sponsor ads in NBC broadcasts, it has to dole out fewer dollars to promote its sponsors in other ways.
"The way we are approaching our broadcasts now has had a significant impact on our bottom line in terms of net savings," Geer said.
The NBC deal also is opening up new partnerships for USATF.
For the first time, USATF has partnered with USA Swimming and USA Gymnastics on a joint sponsorship package that includes event hospitality and TV advertising inventory for all three sports. The three national governing bodies are billing themselves as the "Trio to Rio," a reference to the 2016 Olympics in Rio de Janeiro. That deal would not have been possible without the NBC pact.•
Please enable JavaScript to view this content.