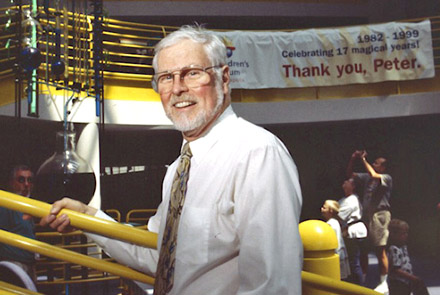 Peter Sterling, who led the Children's Museum of Indianapolis through a tremendous period of growth, died Wednesday in Waynesville, North Carolina. He was 81.
Sterling served as executive director of the Children's Museum from 1982 to 1999 and helped turn the already-popular institution into a global attraction.
An obituary in The Mountaineer of Haywood County, North Carolina, did not disclose a cause of a death, but said Sterling had gone through a long battle with Parkinson's disease.
Sterling was hired in 1982 by museum trustees to lead "long-range plans to move the museum from its standing as one of the best of its type to the very best children's museum in the world," according to a history of the museum on its website. Under his direction, the museum's endowment grew from $35 million to about $200 million and the museum exploded in size.
Major additions during his tenure included the Welcome Center, SpaceQuest Planetarium, Eli Lilly Center for Exploration, Allen Clowes Festival Park and the Cinedome Theater, which was later converted into the Dinosphere. The museum also added a restaurant and an outdoor garden gallery.
Sterling started a planned-giving program almost immediately after becoming the fourth director in the museum's history—and gifts became a big part of his legacy.
Ritchey Woods, a 124-acre nature preserve in Hamilton Country, was given to the museum in 1982 by The Nature Conservancy. The museum also received property at the corner of Illinois and 30th streets that year from American Fletcher National Bank that it used for expansion.
In 1984, the museum's collection nearly doubled when it received more than 50,000 toys and folk-art objects from toy executives and world travelers Frank and Theresa Caplan.
And, in 1997, the museum received a $40 million gift from the estate of publishing heiress Enid Goodrich.
"Through all his efforts, he raised the museum's national profile, cementing its place as a standard bearer for programming innovation and exhibit excellence," says a bio of Sterling on the museum's website. "His legacy is the emphasis he placed on the museum's duty to educate and enlighten its visitors."
Sterling was born in Springfield, Massachusetts, graduated from Davidson College and Georgetown University, and spent time as a history teacher before he began leading cultural institutions.
He was director of the USS Constitution Foundation in Boston and the head of education and group visitation programs for the Colonial Williamsburg (Virginia) Foundation prior to leading the Children's Museum.
When he retired in 1999, Sterling and his wife retired to North Carolina, where they had owned a vacation home.
After retirement, he served on Waynesville Historic Preservation Commission and developed the Haywood Snapshot Project, a community program to preserve and share historical photographs.
More information about Sterling's contribution to the Children's Museum can be found here.
 
Please enable JavaScript to view this content.