A locally based company bent on improving sports officiating has a new name, a new focus and, perhaps most important, a string of new clients.

Zooom—which has created a platform to help high schools and small colleges evaluate game officials—recently signed deals with the Indiana High School Athletic Association and its counterparts in Texas and Michigan.

And earlier this year, Zooom landed high school athletic associations in Colorado, Missouri, New Mexico and Oregon.

The Zionsville-based firm has also signed deals this summer with a handful of college conferences and other professional sports leagues.

"Without our site, officials at a multitude of levels come to games each week, get screamed at for two hours, they leave and have nowhere to turn to get better," said one of the company's founders, Kyle Armstrong. "We offer a way for officials to analyze and improve what they're doing and to make the game better by making officiating more consistent statewide."

Zooom was founded in 2011 by Armstrong and a group of now-departed partners as The Tyros. Retired NFL head linesman Mark Baltz joined the company three years ago and is now a co-owner. Baltz, Zooom's CEO, spent 50 years as an official at various levels, the last 25 with the NFL.

Armstrong and Baltz say they and the company's silent, minority owners have invested $750,000. They hope to have that recouped in about three years.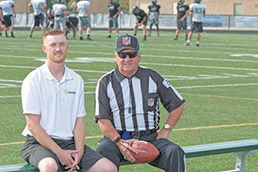 Kyle Armstrong, left, and retired NFL head linesman Mark Baltz say their product has no direct competition.
(IBJ photo/Eric Learned)
The company initially helped sports teams and leagues schedule referees. With the help of 68-year-old Baltz, who retired from the NFL after the 2013 season, the focus changed to education and training.

Zooom now aims to bring the type of video critiquing and training to its high school and small-college clients that Baltz became familiar with as an NFL zebra.

"Within minutes after an NFL game was over, we had video of the game that was highlighted and telestrated [the freehand, on-screen markings that analyze plays like TV commentators use during games] to show us what we got right and what we got wrong," Baltz said.

That type of system is simply too costly for high school and small-college leagues to maintain. That's where Zooom comes in.

With the help of a cadre of contractors, Zooom has developed an app-driven system that allows schools and leagues to upload game video and designate it for viewing by another individual or group.

Zooom's software quickly removes much of the video's dead time and encodes the footage so only the intended recipient can view it, then converts it into high-definition. Both uploader and viewer can add notations and even a voice track, to explain plays and review officials' calls. Within minutes, that video can be accessed by a group designated by the uploader.

Officials can simultaneously watch and analyze the video from any device, then share comments in real time—a degree of sophistication matched only in the highest levels of officiating, Armstrong said.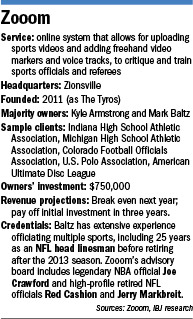 Diversification

Zooom hired Indianapolis-based InSource Code to design and develop its website, Fishers-based Auri's Ideas to handle app development (which is critical to getting the videos uploaded quickly), and Indianapolis-based Gear to develop the app interface.

Indianapolis-based MilesHerndon came up with a new name (the three O's stand for officials and officiating organizations), logo and company colors.

"I said, 'Let's not design a Chevy; let's design a Rolls-Royce. When that's ready, we can roll,'" Baltz said. "What we're offering now closely resembles what professional sports leagues like the NFL and NBA offer. The speed that video can be uploaded and accessed is one of the things that really makes [Zooom] appealing."

Zooom showed off its new product at the Sports Officiating Summit in San Antonio July 31-Aug. 2.

Zooom recently signed its first college deals—with NCAA Division III Heartland Collegiate Athletic Conference and the Mid-States Football Association, an NAIA college conference. Zooom is working with clients in soccer, basketball, wrestling, baseball and softball.

But the company is diversifying in some unexpected ways. It recently signed deals with the U.S. Polo Association and the American Ultimate Disc League, a professional Frisbee league.

"We never dreamed we would be working with guys on the backs of horses playing and officiating polo," said Armstrong, 30. "But they sought the kind of training [for officials] the NFL has and Mark is very familiar with."

Scott Saucke, president-elect of the Colorado Football Officials Association, was attracted to Zooom for the ability to distribute "marked-up" video statewide—and quickly.

"We can send video to thousands of officials virtually instantaneously across the state," Saucke said. "That type of video training—for the improvement and consistency of officiating—is simply invaluable. And from my perspective, it's easy to use."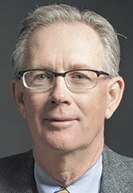 Ragsdale
Heartland Collegiate Athletic Conference Commissioner Chris Ragsdale said Zooom is a "first-of-its-kind product."

"It's the first product made and sold commercially designed especially for officials," said Ragsdale, whose conference includes Franklin, Hanover and Manchester colleges. "Zooom allows us to provide a way for our game officials to grow and improve, and that's only going to improve the experience of the student-athletes. I'm really excited to be on the ground floor of this."

While the company's growth over the last year has come relatively rapid-fire, Armstrong and Baltz admit it has been a lot tougher—and slower—than they expected.

"We thought once we nailed one state, we'd nail all 50," Baltz said. "We thought once one signed, the others would quickly follow. What we learned is, all 50 states do things totally different, so it takes a while."

'Ready to go'

Another challenge, Armstrong said, has been convincing coaches and athletic directors that their uploaded video won't be seen by the wrong eyes.

"There's no way we're going to share this video with other coaches," Baltz added.

He's confident that officials—once they experience the Zooom system—will be enthusiastic users.

"These officials are into officiating because they absolutely love the game," Baltz said. "They love the game as much as the players do. And they want to do everything they can to get better at what they do."

Armstrong and Baltz expect sales to get another boost after the Midwest Officials Summit Sept. 18-20 in Fargo, North Dakota, where the company will be a primary presenter.

"We're beyond the test phase now," Armstrong said. "We have a proven product. We're ready to go."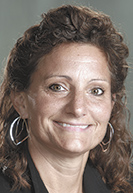 Walter
IHSAA Assistant Commissioner Sandra Walter is ready for Zooom's takeoff.

"We're really excited Michigan has adopted this system. That means we can share a library of instructional videos for our officials across state lines," Walter said. "I hope soon we'll be sharing Zooom videos across the country. Combining our efforts to improve officiating is an exceptional opportunity that was unthinkable just a couple of years ago. Saying I'm excited about this is an understatement."

There is a company, Huddle, that edits and uploads video for coaches, but Armstrong and Baltz don't think they have any direct competitors in the officiating market. They said Huddle's system doesn't work well for officials because it edits the video from the snap of the ball to the whistle that ends the play.

"Officials need to see more than that," Baltz said. "There are a fair amount of dead ball violations that officials need to see."

So far, the owners say, revenue isn't great. But they project Zooom will bring in enough revenue next year to cover expenses.

Officials are charged $3 to $25 annually for a subscription. Organizations with more officials will be offered prices on the lower end. Indiana has about 7,000 officials across all sports. Texas has more than 18,000. If all or most of those officials opt into Zooom and the company adds more clients, it shouldn't take long for revenue to start piling up.

The value of the deals Zooom has signed so far varies widely, Armstrong said, ranging from $500 for a year to more than $20,000.•