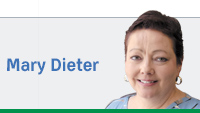 The disproportionate reactions to Ryan Lochte's and Gabby Douglas' behaviors in Rio have parallels in presidential politics.
Swimmer Lochte, 32 and white, got a boys-will-be-boys pass from many after he fabricated an armed robbery to cover up his drunken destruction of a gas station rest room. Gymnast Douglas, 20 and black, was vilified for not placing her hand on her heart during the national anthem.
Some cited white male privilege for the disparate reactions to those disparate actions. A commenter on Facebook acknowledged Lochte's juvenile behavior and said Douglas' detractors should "get a life," but questioned if the double standard was as pervasive as the uproar suggested.
It is. Even in 2016, white male privilege is so ingrained and insidious in American culture that it goes unnoticed by many, particularly its beneficiaries. Anyone who is not white and male is the "other." Women and people of color regularly experience sexism and racism in big and little ways and, when we call it out, eyes roll and ears are plugged.
Just as racists swarmed when Barack Obama burst onto the national scene, so have misogynists been emboldened with the rise of Hillary Clinton as the first woman to be a major party's nominee for president. How dare she challenge the patriarchy?
Donald Trump is a loathsome human being, but he has caught the imagination of a sizable number of people who apparently fear Clinton jeopardizes their white male privileges. Make America great again? For whom? These people—including congressional leaders Mitch McConnell and Paul Ryan and many in the news media—merely tsk, tsk when Trump makes some horrible pronouncement and then excuse his Donald-will-be-Donald behavior.
Clinton, meanwhile, has been subjected to harsher treatment and judgment than men who have acted similarly. Ten congressional committees spent four years and millions of dollars investigating her purported role in four deaths at the Benghazi embassy—investigations that were vastly more expansive and expensive than virtually any previous probe into the deaths of Americans serving offshore. Likewise, Congress and the news media have mounted interminable inquiries into Clinton's use of a private email server. Nobody blinked when George W. Bush used a Republican National Committee server or when Karl Rove deleted 22 million emails.
Clinton also has been attacked for her husband's charitable foundation, by rivals and a profoundly flawed story by the Associated Press. But nobody suggested George Bush senior shut down his foundation when his son ran for president.
Those are irrefutable facts. But I also feel it in my gut. Since the suffragists dared to challenge their second-class status, women have been sullied, insulted and abused when they sought equality. So many people are predisposed to mistrust any woman who asserts herself that they readily believe the worst about Clinton. Voters who cite Clinton's sex as a reason to vote for her are mocked for being sexist, even though 44 men came before her and many believe a woman's life experiences will bring needed perspective to the White House.
It's hard to imagine that FBI Director James Comey, announcing that Clinton did not break the law, would have been so recklessly gleeful in his scolding if the subject of the email investigation were a man. Nor would the rotund, senior-citizen Trump be charging that a male opponent is frail and weak.
Still, it is beyond time for a woman to be president. Clinton's strength, stamina and grace in her quest to be the first prove both the existence of white male privilege and its wrong-headedness.•
__________
Dieter, a writer and an editor, is the former Statehouse bureau chief for The Courier-Journal and press secretary for Gov. Frank O'Bannon. Send comments on this column to ibjedit@ibj.com.

Please enable JavaScript to view this content.