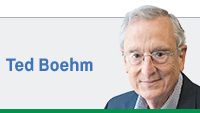 In the week before the press deadline for this column, Donald Trump apparently did a 360-degree pivot on immigration policy—first softening his hard line on deporting millions, then reaffirming his original position that anyone in the United States illegally, for however long, must leave and then seek re-entry.
Who knows where he will be next week on this issue? For that matter, who knows whether he has a position on this or any other issue? Or does he, ever the entertainer, merely spout whatever catchy line comes into his mind at a given moment?
Unpredictability is one problem with Trump's candidacy. His lack of temperament and knowledge and good taste have also been on display. But more fundamentally, he has given us no basis to judge what we can expect from a Trump presidency on the major issues facing the country. He asks us to buy a pig in a poke—and installing his third campaign chair and a purported "softening" image are just more lipstick.
There is a difference between a goal or a hope and a plan. It is fine for a candidate to express a desire to address a problem. And leaders should have vision, seeing things as they might be, not only as they are today. Setting a goal can show concern for an issue, but it says nothing about what to do about it.
Trump has no difficulty articulating what he will accomplish. He will build a wall on 2,000 miles of our southern border and make Mexico pay for it. He will reduce taxes for everyone, with the biggest cuts for the wealthiest, without blowing our national debt through its already lofty roof. He will stop random violence of the sort that tragically killed a mother of four pushing a stroller on a Chicago street. But he offers no clue how he proposes to accomplish these goals even if resources were unlimited.
The president of Mexico promptly and firmly declared there was no way his country would finance Trump's wall. Does Trump plan on military action? Will he attempt to block trade with Mexico despite our treaty obligations under NAFTA? Presumably he has neither in mind, but if so, what is his plan?
Trump's "policy statement" on taxes was equally devoid of serious content. He offered no details of what he would eliminate from the federal budget. Nor did he present any reason to accept his contention—rejected by the vast majority of economists—that the cuts would generate offsetting revenue through growth andinvestment. He presented a hope, not a plan.
Trump, like all of us, is against violence in the streets. But what, pray, does he propose? For decades, we have had calls for more law enforcement officers, more incarceration, programs working within communities, and longer-term solutions based on education, enhanced opportunities, etc. Who knows what Trump has in mind or whether he has any ideas that haven't been debated for years?
Finally, Trump's claims are unbound to any reality. Trump assured us that only if the election were "rigged" could he lose Pennsylvania. He cited no facts to support that highly improbable contention. And he ignored Hillary Clinton's current lead in the Keystone State polls.
Trump may have his vision, however dystopian it may be. But leadership also requires steadfastness, consistency and credibility. Trump's erratic and chaotic campaign shows us none of these essentials.•
__________
Boehm is a retired Indiana Supreme Court justice who previously held senior corporate legal positions and helped launch amateur sports initiatives in Indianapolis. Send comments on this column to ibjedit@ibj.com.
Please enable JavaScript to view this content.