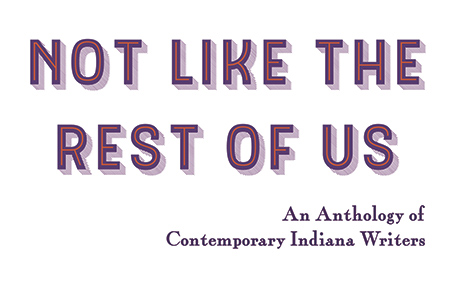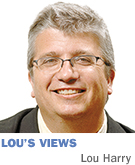 Given that "Not Like the Rest of Us: An Anthology of Contemporary Indiana Authors" is an officially endorsed Indiana Bicentennial Legacy Project, a potential reader might think it's merely an edited-by-committee, wart-less celebration of the state and its writing talent.
But what's inside is a bit quirkier than that. As any collection by a wide range of writers should be.
Coming on like a biggie-sized literary magazine, the book (shipping Sept. 15) is divided into three sections—nonfiction, poetry and fiction—each with standouts and questionable calls. The fact that much of the work was previously published certainly helps raise the average, and there's strong work here from some of the state's highest-profile writers.
Giving the book its title, Cathy Day's "Not Like the Rest of Us: A Hoosier Named Cole Porter" is an expert, conversational essay that is less about the songwriter and more about how Hoosiers see themselves. Philip Gulley's thoughtful-but-too-brief "The Hoosier Identity" also fits into the "figuring ourselves out" genre, concluding, "Any state that would elect Eugene Debs to public office has something noble, something virtuous, in its DNA."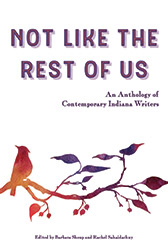 I came to the book less familiar with Lili Wright, but she certainly got my attention with her generically titled, "How I Spent My Summer Vacation," which takes the literary trope of cleaning out the contents of a parent's home (in this case, a grandparent's homes) in wonderful directions.
On the poetry front, Joseph Heithaus' "Fog Light," Mark Neely's "Extremist Sonnet," and Shari Wagner's "The Lerner Theatre, 1953" use few words for major impact. I found myself re-reading each not for clarity but just to marvel at how they pull off so much in so little space.
My IBJ co-worker Bonnie Maurer is well-represented with her haunting "Himmler's Lunch in Minsk, 15 August 1941." And in its few lines, Mari Evans' "Celebration" gives a wealth of reasons why she's now the subject of a mural on Mass Ave.
Fiction is always the most personal-taste-driven in such volumes. I suspect many readers will go directly to John Green's intense "Double On-Call." That's a problem, because the harrowing, well-observed story of a hospital chaplain might raise the bar too high on some of the other writers.
Some, though, including Karen Joy Fowler with "Go Back" and Susan Neville with "Jubilee" certainly are able to play at Green's level.
Is a favorite writer of yours missing? The Editor's Note by Indiana Writers Center Executive Director Barbara Shoup (who co-edited the book with Rachel Sahaidachny) makes clear the book is not a comprehensive collection.
As ambitious as it is, though, the book does have clear limitations, particularly a seemingly steadfast resistance to those outside of academia and certain literary circles. Where, for instance, are some of the talented essayists and solid nonfiction writers from the Indianapolis Monthly stable? Do Indiana playwrights such as Ben Ayers have a place in the Indiana literary landscape? Some sharper edges would have been helpful as well.
As it is, though, it's a collection well worth a read, one whose highlights make a good case for Indiana's literary talent.
My advice: Don't feel obligated to read it sequentially. As with any anthology, don't treat it like a school assignment: If a piece isn't speaking to you, bail and move on to the next one.
When you find what you like, consider searching out other work by those writers. Lili Wright's new novel, "Dancing with the Tiger," has certainly moved up higher in my reading pile.•
__________
This column appears weekly. Send information on upcoming arts and entertainment events to lharry@ibj.com.
Please enable JavaScript to view this content.