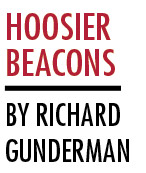 By the time of his death 100 years ago, James Whitcomb Riley was known throughout the land as the "Hoosier Poet." The best-selling American author of the 1890s, he was so beloved that "Riley Day" was celebrated in many locales throughout the country.
Riley was born in 1849, the third of six children of a Greenfield attorney. He was a lackluster student but later turned his poor education to advantage by writing frequently in the Hoosier vernacular.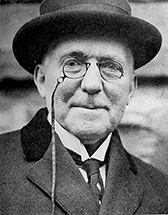 Riley's best-selling book, "Rhymes of Childhood," was published in 1890, when he was 41 years old. (Photo courtesy of Indiana State Library)
Like his idol Charles Dickens, Riley experienced financial distress early in life. His father returned from the Civil War injured and unable to continue his legal practice. The family was forced to sell their house, and his mother died soon thereafter, leading Riley to leave home.
The young Riley worked as a house painter, a salesman and sign painter. He began performing in local theater and writing poetry. Then he began working in traveling medicine shows, where he read his poetry.
Eventually, Riley's poetry began to take off, and in 1877 he was hired by an Anderson newspaper as a reporter. In an effort to garner more acclaim, he submitted a supposedly long-lost poem by Edgar Allan Poe. When the ruse was discovered, Riley was fired.
Unable to support himself by writing, Riley went on the road, reading his poetry to paying audiences. His presentations were both humorous and moving, and soon he was imitating the style of other author-lecturers, such as Mark Twain, with whom he later shared a stage bill.
In 1879, Riley moved to Indianapolis to begin work for the Indianapolis Journal, where he wrote a society column that included his verses. Within a few years, he abandoned his pseudonym, "Jay Whit," and began publishing under his own name.
In the 1880s, Riley's poor financial situation improved, and in 1883 he was asked to publish some of his poems in a book. As his popularity grew, Riley received many offers to move outside Indiana, but he refused them all, saying his Hoosier roots provided his inspiration.
By the 1890s, Riley was generating vast sums of money from his writings and tours, eventually earning more than $3 million. In 1893, he moved into the home of a wealthy family on Lockerbie Street, which now operates as the James Whitcomb Riley Museum Home.
Riley's writings frequently drew on his childhood. "The Old Swimmin' Hole" described his experiences playing at Brandywine Creek, and "Little Orphant Annie" was based on a 12-year-old girl the Riley family took in while his father was serving in the Civil War.
Riley's best-selling book, "Rhymes of Childhood," was published in 1890, and it was not long before he was being called "The Children's Poet." He was held in such high esteem that he received honorary degrees from Yale University, the University of Pennsylvania, Wabash College and Indiana University.
When he died in 1916, Riley became only the third person to lie in state at the Indiana Statehouse. The first was Abraham Lincoln. More than 35,000 people filed past Riley's coffin, and he was buried at the highest point in Indianapolis in Crown Hill Cemetery.
Today, Riley's best-known poems include "When the Frost is on the Punkin," "The Raggedy Man" and "An Old Sweetheart of Mine." A group of his friends promoted perhaps his most enduring legacy—the founding of Riley Hospital for Children, which has served countless children since opening in 1924.•
__________
Hoosier Beacons pays tribute to Indiana's bicentennial by telling the stories of famous Hoosiers. It appears every other week. Gunderman is chancellor's professor at Indiana University.  
Please enable JavaScript to view this content.