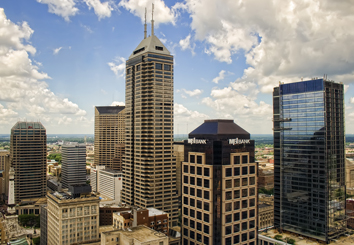 Indianapolis notched a top-10 ranking for tech-company office leasing during a recent one-year period, according to a new national survey, illustrating the city's allure for local and out-of-town tech firms.
A report published Monday by real-estate services Jones Lang LaSalle IP Inc. found that tech companies signed leases for just under 985,000 square feet in the Indianapolis metropolitan area between the third quarter of 2015 and the second quarter or 2016. That showing was enough to place it 10th among the 45 cities ranked. The total square footage included new leases, lease renewals and renewals with expansions.
Salesforce.com Inc. led the way, agreeing to lease 227,781 square feet in the Salesforce Tower (formerly the Chase Tower) downtown, JLL reported. Other companies pulling the trigger on office deals included Blue Horseshoe Solutions Inc., securing 26,688 square feet of new space in Carmel, and Octiv Inc., leasing 13,000 square feet downtown.
"Tech firms have been a major driver for office user demand over the past 18 months," senior research analyst Mike Cagna said in the report, "a trend we expect to continue due to Indianapolis' affordability and tech-savvy talent pool being churned out by area universities."
Real estate firms like JLL and CBRE have been publishing more research on the technology industry, partly because it has emerged as an outsized driver of real estate transactions.
"The technology sector remains the leading industry for real estate expansion in the United States—driving nearly 25 percent of leasing activity across the country over the past two years," the report said.
The top three markets for tech leasing, JLL said, were Silicon Valley (3.9 million square feet), Seattle-Bellevue (2.5 million square feet), and Boston (1.8 million square feet).
In addition to the real estate rankings, JLL gave 45 metropolitan areas "market scores" to allow investors to quickly identify which markets would be the most resilient through periods of economic contraction, the firm said.
The scores were based on economic momentum, talent pool, innovation and cost. Indianapolis ranked No. 22 overall, leading the pack in one category:
Economic momentum, including variables that measure job growth over past three years: #11 (tie)
Talent pool, including metrics such as tech labor pool, net migration and young talent: #34
Innovation, measured by factors including patents and venture capital funding: #22 (tied)
Cost, accounting for office space, labor and housing costs: #1
JLL researchers said Indianapolis benefits from employers like Salesforce and Angie's List, which attract college graduates and middle-age tech talent moving here from larger cities.
They also highlighted the local costs of living and doing business—each well below the national average. The recent tech demand for real estate has caught the attention of Indianapolis building owners, researchers said, "who are starting to construct more unique and collaborative spaces to attract these users."
But the area struggles with providing adequate real estate options for early-stage startups, specifically a healthy supply of co-working and incubator space, researchers said.
They also noted that while downtown has increased its supply of desirable tech space, "the suburban markets continue to offer mostly standard, second-generation office space."
 
Please enable JavaScript to view this content.