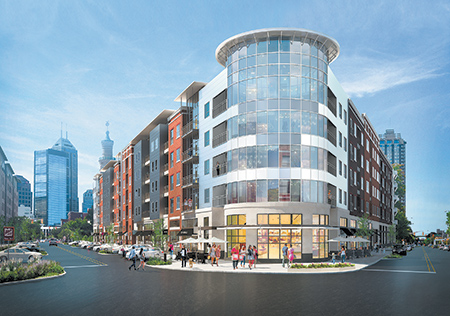 Downtown's booming apartment market is about to experience one of its biggest waves of construction as work begins on three highly anticipated projects totaling $230 million in investment.
Developers of the three—Penrose on Mass (J.C. Hart Co. Inc.), Park at Pulliam Square (TWG Development LLC) and the second phase of CityWay (Buckingham Cos.)—each expect to start yet this year. Together, they will add another thousand units by the end of 2018 to the core's growing housing stock.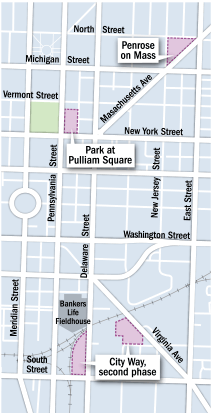 The number might seem like a lot for downtown to absorb at one time, especially given the already-swift pace of apartment construction in recent years. But George Tikijian, senior managing director of local apartment brokerage Tikijian Associates, remains bullish on the market.
"The demand for units downtown will continue," he told IBJ. "And all the stuff that's being finished up now should be pretty well leased up by then."
That includes the 215-unit Lockerbie Lofts at the northwest corner of College Avenue and Michigan Street that TWG just completed.
On top of that, Flaherty & Collins Properties' $121 million, 292-unit 360 Market is rising at the corner of Market and Alabama streets, in addition to Herman & Kittle Properties Inc.'s$28 million, 240-unit Vue on South College Avenue.
And in the pipeline is Hendricks Commercial Properties LLC's mammoth $260 million mixed-use development at the former Coca-Cola plant near College and Massachusetts avenues.
That project calls for 337 apartments, 339,000 square feet of office space and 67,000 square feet of retail space. Hendricks also plans to build a 132-room hotel and 41,000-square-foot cinema but needs to close on the property with Indianapolis Public Schools by next August before it can start building.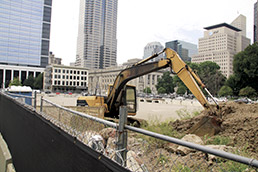 TWG Development plans to start construction on the $70 million Park at Pulliam Square in October. (IBJ photo/Lesley Weidenbener)
Overall, the promotional group Downtown Indy is tracking more than 2,700 market-rate units, counting those geared toward IUPUI students, either planned or under construction through 2018. Downtown currently has about 10,000 units.
The organization uses data from Tikijian Associates to track occupancy, which stood at a robust 96.4 percent through October 2015, the most recent month available.
Catherine Esselman, Downtown Indy's real estate manager, expects occupancy to be just as solid when Tikijian Associates releases its latest data next month.
"Even with new products coming on the market," she said, "the leasing activity in [the third quarter] has been really strong."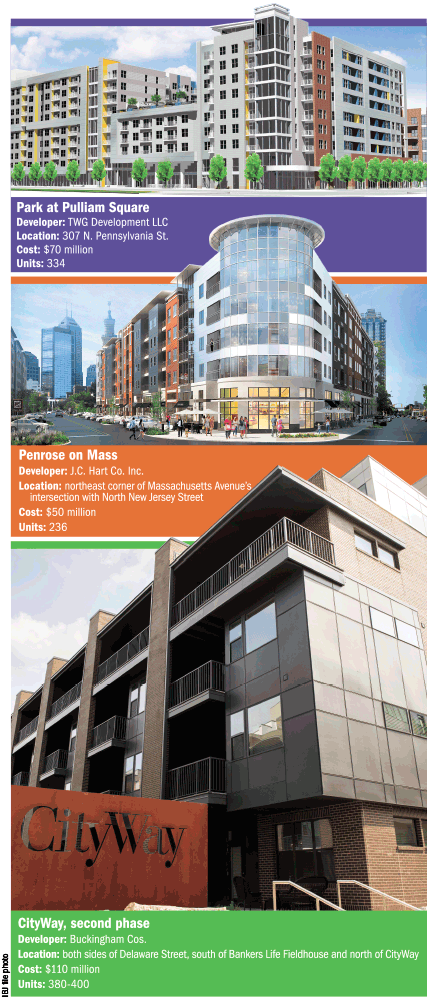 John Hart, president of Carmel-based J.C. Hart, which plans to start construction within a month on the $50 million, 236-unit Penrose on Mass, said his project has an advantage over much of the competition.
"Despite the supply considerations and the demand for apartments downtown, the thing that continues to separate us is the location," he said.
"We think Mass Avenue is the premier live-work space downtown."
Tikijian agreed, praising Massachusetts Avenue as "kind of a gold-plated address."
"Being on Mass Ave is like being on Michigan Avenue in Chicago," he said.
J.C. Hart is developing the five-story project with partners Schmidt Associates and Strongbox Commercial. It is set to be built on the northeast corner of Massachusetts Avenue's intersection with North New Jersey Street where Fire Station No. 7 and the Indianapolis Firefighters credit union and department headquarters stood.
As part of a massive city land swap, the fire headquarters moved to the former American Red Cross building at 441 E. 10th St. and a new fire station was built on the site, while the Red Cross moved to a new building at 1510 N. Meridian St. Also, a new credit union has been built to the west of the existing Firefighters Union building at 748 Massachusetts Ave., near College Avenue.
Penrose on Mass, formerly known as Montage on Mass, will feature 38,000 square feet of retail but will be built without the digital canvas that developers wanted to incorporate into the design to showcase local artwork. They shelved the idea in July after it failed to muster support from the Indianapolis Historic Preservation Commission.
The old fire station and credit union will need to be demolished to make way for Penrose on Mass. Hart will begin construction by digging the underground parking garage and hopes by 2017 to have concrete poured for the garage.
"The challenge on the timing is, it's hard to predict what we can get done through the winter months, because there's a lot of concrete to be poured," he said.
More jobs, more housing

TWG also expects to start construction in October on its project, the $70 million Park at Pulliam Square. The nine-story building at 307 N. Pennsylvania St. will feature 334 apartment units and 4,600 square feet of office space, in addition to 7,000 square feet of retail space at the corner of New York and Talbott streets.
Park at Pulliam Square serves as the second phase to TWG's 145-unit Pulliam Square mixed-use development built on part of the same block. Retail tenants there include The Tap and Wild Eggs. That project is 97 percent leased, TWG President Tony Knoble said.
"Hopefully, it will be just as well received," he said of the next phase. "We think it will be."
Next up on the construction schedule is Buckingham's $110 million second phase of CityWay that would include a 14-story apartment tower—eight floors of residential above an existing six-story CityWay parking garage.
Buckingham's project is by far the most expensive and ambitious of the three that are set to start construction.
Besides the tower, it would consist of several five-story buildings, with retail and parking on the ground level, housing a total of 380 to 400 units, Buckingham said.
Buildings would be constructed on the surface lots bounding the railroad tracks and Virginia Avenue to the east of Bankers Life Fieldhouse, while others would be constructed on the surface lots on the west side of Delaware Street, stretching from South Street to the railroad tracks to the north.
City documents from November 2015 list the project's cost at $155 million. The month before, the city's Metropolitan Development Commission passed a resolution to contribute $15 million in downtown tax-increment financing funds to the project.
Buckingham is finalizing phase two construction plans and looks forward to submitting them to the city, said Ryan Gallmeyer, director of development operations, in an email.
"Upon approval of the plans, we expect construction could begin before the end of 2016," he said.
Construction on the next phase of CityWay and the two other apartment projects is poised to start as more companies flock to downtown, creating the need for more housing.
The most notable addition to the downtown workforce is the expansion from Salesforce.com Inc.
The San Francisco-based company announced in early May that it plans to add 800 jobs in Indianapolis by 2021 and establish a regional headquarters in downtown's Chase Tower—to be renamed Salesforce Tower.
"Salesforce is a huge deal that will have significant ripple effects," Esselman at Downtown Indy said.
"What we're really excited about is the mirroring aspect of job creation and amenities outside of housing that make downtown exciting."•
Please enable JavaScript to view this content.