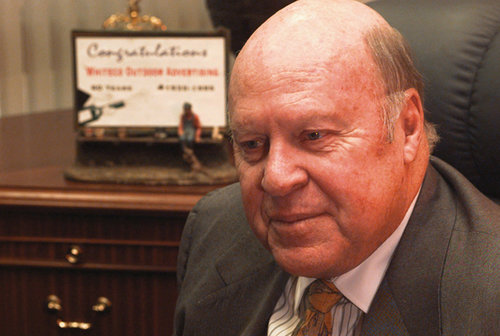 One of Indiana's wealthiest business leaders has died.
Hotel and billboard magnate Dean White of Crown Point was 93.
His company, Merrillville-based Whiteco Industries, developed hotels across the United States, including the $450 million Marriott Place hotel complex in downtown Indianapolis, which includes the JW Marriott.
This year, White ranked 260th on the latest Forbes 400 list of richest Americans, with an estimated net worth of $2.4 billion. He ranked third in the state behind Cook Group CEO Carl Cook and real estate magnate Herb Simon.
Whiteco Industries was started by White's father in 1935 in Nebraska. The company concentrated on billboard advertising, mostly in the Midwest. White inherited the business in 1946 and got heavily involved in real estate and hotel development.
He sold the billboard portion of the business in 1998 for $960 million to Chancellor Media. In 2006, he sold 100 hotels to BET founder Robert Johnson for $1.7 billion.
Indiana Chamber President Kevin Brinegar called White "a tremendous businessman and civic leader."
"No matter the cause or need, you could count on him to come through," Brinegar said in a written statement. "What I will remember most is Dean had such a passion for the state and wanted to see it flourish. He leaves behind a wonderful legacy of a life fully lived."
White was also a major donor to charities and Republican political campaigns.
"Dean was a giant whose commitment to Indiana, particularly Northwest Indiana, impacted the lives of countless Hoosiers," Sen. Dan Coats said in a statement. "His legacy will live on for generations."
Four years ago, White donated $425,000 to help elect Indiana Gov. Mike Pence.
"Dean White's boundless generosity, servant leadership and contributions will leave an enduring impact on our communities for years to come," Pence tweeted Wednesday night.
Please enable JavaScript to view this content.