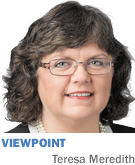 Federal education law is changing. No Child Left Behind is getting left behind, and we have an opportunity to bring what is great about our own public schools to all Hoosier kids through the Every Student Succeeds Act.
ESSA enables states and school districts to tailor the federal law to meet the needs of their community, schools and kids. It allows for more bottom-up versus top-down decision making. The voices of educators, families and local leaders can, and should, be considered as the state begins implementation of the law in the coming months.
We have an unprecedented opportunity to make certain every child—regardless of ZIP code—receives a great education. And it's up to our elected officials, educators, families and community members to make it possible.
The federal mandates of NCLB were applied indiscriminately in every community and state. However, ESSA offers state legislators, districts, educators and families an opportunity to weigh in on the direction of their schools and how to implement the new guidelines. In fact, the bill specifically restricts the U.S. secretary of education from imposing mandates on standards and assessment, accountability systems, data collection, exit requirements, teacher evaluations and teacher effectiveness.
Educators across the nation have been silenced and ignored for far too long, and they applauded the bipartisan effort of congressional leaders who recognized during an era of political stalemates that our kids could not afford to wait on change, and that educators must be part of the discussion in how to move forward. Now, policymakers from the local level up to the Statehouse have the flexibility to listen to Hoosier educators, parents and community leaders to tailor the law to best suit educational needs here.
So, as a state, where do we begin?
■ Call on Indiana lawmakers to listen to educators—the professionals when it comes to educational and instructional decisions.
■ Decouple test scores from teacher evaluations and school ratings.
■ Encourage lawmakers to change laws to make sure certain tests are not the primary measure of a school, kids or teachers. ESSA offers states choices to identify the best indicator, or measurement, of school quality and student success. The six possible indicators are unrelated to testing and offer more diverse measurement options.
■ Propose the adoption of more than one nonacademic indicator for student and school measurement. This will ensure that students have a more even playing field when entering the school year.
■ Consider the following nonacademic ESSA indicators: developmental milestones, poverty, community support, job opportunities following graduation, graduation rates, pathways available following high school, whether students return "home" or leave, etc.
■ Build a system where standardized testing is limited, assessments are streamlined, and high-stakes testing for students and teachers is eliminated. ESSA allows states to set a cap on the time students spend on testing annually, which promotes learning over teaching to the test. As the ISTEP panel reviews a test replacement, it is important to examine the guidelines outlined in ESSA.
With the passage of ESSA, the education of Hoosier kids is once again in our hands. Families and community members can show support for public education by engaging in the ESSA implementation. It's time to advocate for educator, family and community involvement as we implement ESSA to secure the best outcome for student success.•
__________
Meredith is president of the Indiana State Teachers Association and has taught for more than 20 years in Indiana schools.
Please enable JavaScript to view this content.