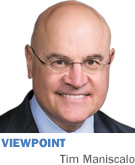 I will never forget the first time my wife and I took our 5-day-old daughter to the pediatrician. After examining our baby, the doctor turned and gave us the most valuable advice about parenting we ever received.
She said: "Your most important job is to establish a relationship of trust between you and your child. She is searching for someone she can trust. Everything you want to accomplish as parents depends on your child trusting you. If you are successful, your daughter will trust you and others she encounters throughout her life. If you fail at this step, raising your little girl will be difficult, and she will have a tough time trusting others."
It struck me that one of our first needs as humans is to find another person in this world that we can trust.
Trust is the glue that holds together all our relationships. You trust your best friend will "have your back" in a time of need. You trust your spouse to be faithful. Trust is the critical factor for both presidential candidates. At the end, without trust, nothing else in a relationship matters.
This begs the question of marketplace trust. Do your customers trust your business? A potential customer must first trust your business before he or she will engage. So how do you know if your customers trust your business?
A study conducted by Better Business Bureau examined how consumers view trust in the marketplace. The most significant action a company can take to win customers and build trust is to enhance the humanness of their experience. This just means showing respect for the customer. People experience and evaluate respect through five basic company traits:
Equitable—The customer is on equal level with the business.
Humble—The customer is made to feel he or she counts.
Proactive—The customer's inquiries are responded to promptly and taken seriously.
Transparent—The company is proactively open about its operations and activity.
Honest—The company readily admits mistakes and makes only promises it can keep.
So, ask yourself: "How does my business demonstrate these characteristics to the customer?" What standards do you demand of employees, so they are compelled to show respect in every customer interaction? Do your customer surveys ask the question, "Did our company and staff respect you during your last transaction?"
To a customer, your business is more than just a place to obtain products or services. It is a human exchange. We all want to be respected when we interact with others. Companies that pay attention to these characteristics gain the respect of their customers; that builds loyalty, marketplace reputation and trust. We all know which businesses we respect and trust and which we do not.
This week, over 200 trust professionals from Better Business Bureau will attend the 46th Annual BBB Assembly in Indianapolis. Our mission for more than 100 years has been to advance marketplace trust. Please join me in congratulating them as they celebrate their accomplishments and continue to learn and create better ways for consumers to start with trust.•
__________
Tim Maniscalo is the president and CEO of BBB Serving Central Indiana.
 
Please enable JavaScript to view this content.