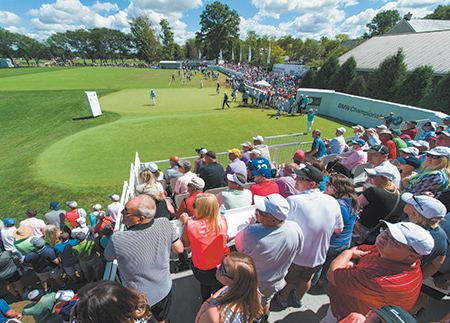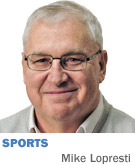 The mission: Take a loaded sports weekend in the Indianapolis area—Sept. 9-11—and hit as many events as possible. It'd be a chance to discover how many ways our games are played, and that not all the stars in town are Colts or Pacers.
The schedule: From Butler University women's volleyball Friday morning to Bloomington Friday evening and the matchup of top-five-ranked Indiana and Maryland men's soccer. Then to West Lafayette Saturday morning for Cincinnati-Purdue football, down to the south side of Indianapolis Saturday night for the University of Indianapolis-Marian University Monumental Matchup. Back to Crooked Stick Sunday morning for the final round of the BMW Championship, and finally to Lucas Oil Stadium and the Colts opener with the Detroit Lions.
So many hot dogs to eat, so little time …
■ First thing you notice at Hinkle Friday morning: all the hungry school groups taking field trips to watch volleyball. It's only 10:45 a.m. but the nachos are going fast. The concession stand line looks like Villanova basketball is in town.
Second thing you notice: One big difference between watching basketball and volleyball courtside at Hinkle is, you have a much better chance of having a volleyball buzz by your head. A good kill can end up in row five.
Third thing: Anna Logan, Butler volleyball brute. She helps finish off Tennessee State in three sets with 17 kills, and is among the nation's leaders in such things. Logan was a one-girl athletic juggernaut at Chatard High School, scoring 44 points in a basketball game and finishing sixth in the state in the discus.
"In high school, if someone asked me what my favorite sport was, I wouldn't give them an answer," she says. She eventually settled on volleyball, for a reason.
Fourth thing: Sharon Clark is in her 17th season as volleyball coach, making her dean of the athletic department. She's been here through five men's basketball coaches.
■ Next, Armstrong Stadium. Isn't this where they run the Little 500 in April? Yeah, but September means soccer. Indiana University might be a basketball blue blood, but it's men's soccer that has produced eight national championships, seven of them won by one Yeagley or another. Father Jerry accounted for six, which is a good reason this is now called Jerry Yeagley Field at Armstrong Stadium. Son Todd—a four-time All-American player for the Hoosiers—took over in 2010 as coach and added another. It's a family dynasty, fashioned by far-flung recruiting: On the 29-man roster are 12 states and two other countries.
More than 3,000 people are in the stands and Jerry Yeagley is in the press box, talking about being the man who built such a program and now watching his son in charge. "It's an awful lot of pride. Some programs, they're hot and cold, they're up and down. Indiana has stayed as a prominent program.
"It is so much harder for me now. Not even close. As a spectator, I have to internalize it all. You want your family, your blood, to do well; you want your program to do well. So I have a much more difficult time handling it now. It's still a passion, still part of my life."
Same for wife Marilyn, who buries her head in her hands when Maryland scores late to tie and force a 1-1 draw. The very picture of a mother's anguish.
■ Come Saturday morning, the Purdue band is playing pre-game outside Ross-Ade stadium near the corner of Joe Tiller and John R. Wooden drives. Speaking of Boilermaker history, there's Gene Keady in a golf cart, posing for pictures. And the most popular jersey worn by fans seems to be that of Drew Brees, who threw his last Purdue pass 16 years ago.
The announced crowd is 33,068, meaning Ross-Ade is half full for a rainy noon kickoff. Seven years ago, Purdue was averaging more than 59,000. You do the math of the hit to the Boilermaker bank account.
Poor Darrell Hazell, who is now 3-31 in four years against FBS opponents. His picture might as well be in the dictionary next to the word "beleaguered," even more so after Cincinnati rolls to its first road win over a Big Ten team in 59 years. They're led by three interceptions by a guy named Mike Tyson, who fares better in this region than the other Mike Tyson did.
"We lost one game. That's not a season," Hazell says. "We certainly are not going to act like Chicken Little and act like the sky is falling."
■ From acres of empty seats to standing room only at Key Stadium for UIndy-Marian. The place seats 5,500, and the announced crowd is a record 10,963, so masses are standing at the rail around the field.
UIndy has brought out the big guns. A former Miss Indiana sings the anthem; former Colt Gary Brackett helps with the coin toss. The announcer says something about "bragging rights in the capital city for another year." Marian—supposedly a smaller fry from the NAIA that has had a football program for only 10 seasons—owned those rights since winning the inaugural Monumental Matchup last September.
Three hours later, Marian has beaten its NCAA Division II opponent again, 38-16, including a 23-yard touchdown run by Jakhari Gore, which is 14 yards longer than cousin Frank's best run would be the next day for the Colts.
The Monumental Matchup trophy—a huge thing that includes a model of the Soldiers and Sailors Monument—is held aloft by Marian folks.
"It just shows you that Marian, NAIA, 10 years, whatever, we're going to play hard no matter who we play," says receiver Krishawn Hogan, a Warren Central product and NAIA star who has nearly 400 receiving yards in two games. "Football is football. That's how our guys look at every week. Some people look at it like a fluke or something."
UIndy, 0-2 against a school only 12 miles away, has ended the series for now. The Monumental Short-lived Matchup.
■ It's a beautiful day at Crooked Stick in Carmel, so the fans are in a good Sunday mood, even if they did have to park five miles away.
This is the BMW Championship, and just in case anyone forgets, there's a blue sports car on display behind No. 18, a black SUV near No.16, and a motorcycle available for virtual-reality rides near the putting green. Plus, huge letters behind the lake on No. 18: The Ultimate Driving Machine. Isn't that supposed to be Dustin Johnson?
What could be more Indy than St. Elmo Steak House shrimp cocktail near No. 17? Well, lots of Colts shirts in the gallery. Either a bunch of patrons are heading for Lucas Oil Stadium later, or they'll be rooting against the Detroit Lions from along the fairway.
All the talk about the imminent Ryder Cup begs the question of whether Crooked Stick and Indianapolis—with its flair for hosting sports events—could ever land that big fish. The matter is put to Tony Pancake, director of golf operations for Crooked Stick.
His response: Probably not.
"I'm sure almost every top 100 club dreams about hosting the Ryder Cup, and as much as we would love to host one, it's probably not the right fit," he says, listing several reasons. The PGA likes really high profile courses, near major media and corporate support markets. Also, the PGA owns Valhalla in Louisville, making it a prime Midwest choice. And Crooked Stick doesn't have the adjacent space to handle such a bash. Oh, well. Pancake said Crooked Stick will continue to pursue other team competition "to give back to golf with events that are good for the game."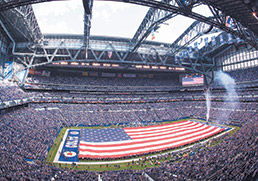 One highlight in the Colts' loss to the Detroit Lions was a stirring display during the national anthem. The game was the first at home on a Sept. 11 since 2001. (AP photo)
■ Last stop, Lucas Oil Stadium, and the chance to see the first official Andrew Luck pass in a month of Sundays—or 44 Sundays, to be exact.
NFL stadiums invariably include two features outside the gates: fan activities and ticket scalpers. Lucas Oil has both. People can run timed 40-yard dashes on South Street. Nobody is able to beat Luck's 4.67. A few better Jack Mewhort's 5.19, but none look like guards.
Inside, the Colts lose a heartbreaker, making their all-time record a curiously even 7-7 with the roof and windows open at Lucas Oil. The day's highlight might be the rendition of the anthem by an Indianapolis police officer, this being the first Sept. 11 home game since 9/11. An hour afterward, downtown Indianapolis is quiet. The weekend is over.•
__________
Lopresti is a lifelong resident of Richmond and a graduate of Ball State University. He was a columnist for USA Today and Gannett newspapers for 31 years; he covered 34 Final Fours, 30 Super Bowls, 32 World Series and 16 Olympics. His column appears weekly. He can be reached at mlopresti@ibj.com.
Please enable JavaScript to view this content.